The Spanish Fury
Hans Bol
1590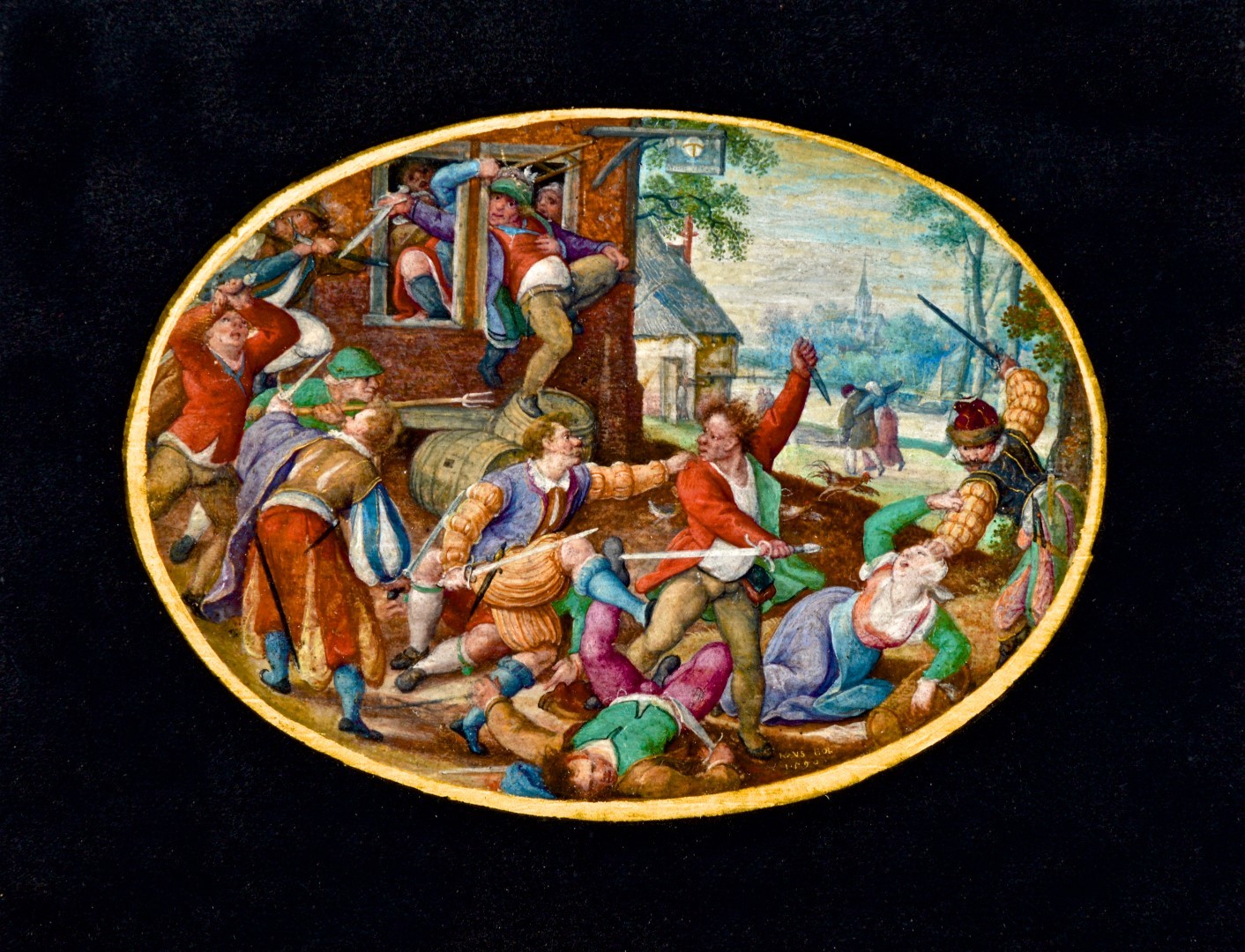 However violent the Spanish Fury of 1572 was, Hans Bol nonetheless succeeded in depicting it on a minute scale. You almost need a looking glass to discover all the details of this scene. Bol specialised in this type of miniature: affordable paintings, using cheap media such as tempera (similar to watercolour) and paper. In so doing, he continued the tradition of the 'water verwers' or watercolourists, a very popular art form in sixteenth-century Mechelen.
The landscape usually plays an important role in Bol's artworks. His subject matter and his style of representation is very similar to the work of Peter Bruegel the Elder. The landscape detail in this work is rather limited because Bol chose to highlight the many fighting figures in the foreground. The scene is identified as an event of the Spanish Fury. Bol experienced the recapture and sacking of Mechelen by Spanish troops first-hand. It also prompted him to leave his native city and move to the Dutch Republic.
__
INFORMATION
Title: The Spanish Fury
Object type: painting
Maker: Hans Bol (1534 – 1593)
Date: 1590
Medium: tempera on parchment on wood
Dimensions: height: 30.5 cm (frame)
width: 27.5 cm (frame)
thickness: 3.7 cm (frame)
height: 8.5 cm (painting)
width: 11.5 cm (painting)
Inventory number: S1097
Origin: acquired in 2004
BIBLIOGRAPHY
Julien Daenen en Jozef Mertens (red.), Limburg in 't geweer. Oorlogsleed in het Land van Loon, tent.cat. Landcommanderij Alden Biesen, 2008: 81-82.
http://www.tento.be/OKV-artikel/hans-bol-landschap-met-jachttaferelen (14/02/2019 - 16:44h).