The Judgement of Solomon
Michiel Coxcie (Workshop)
16th century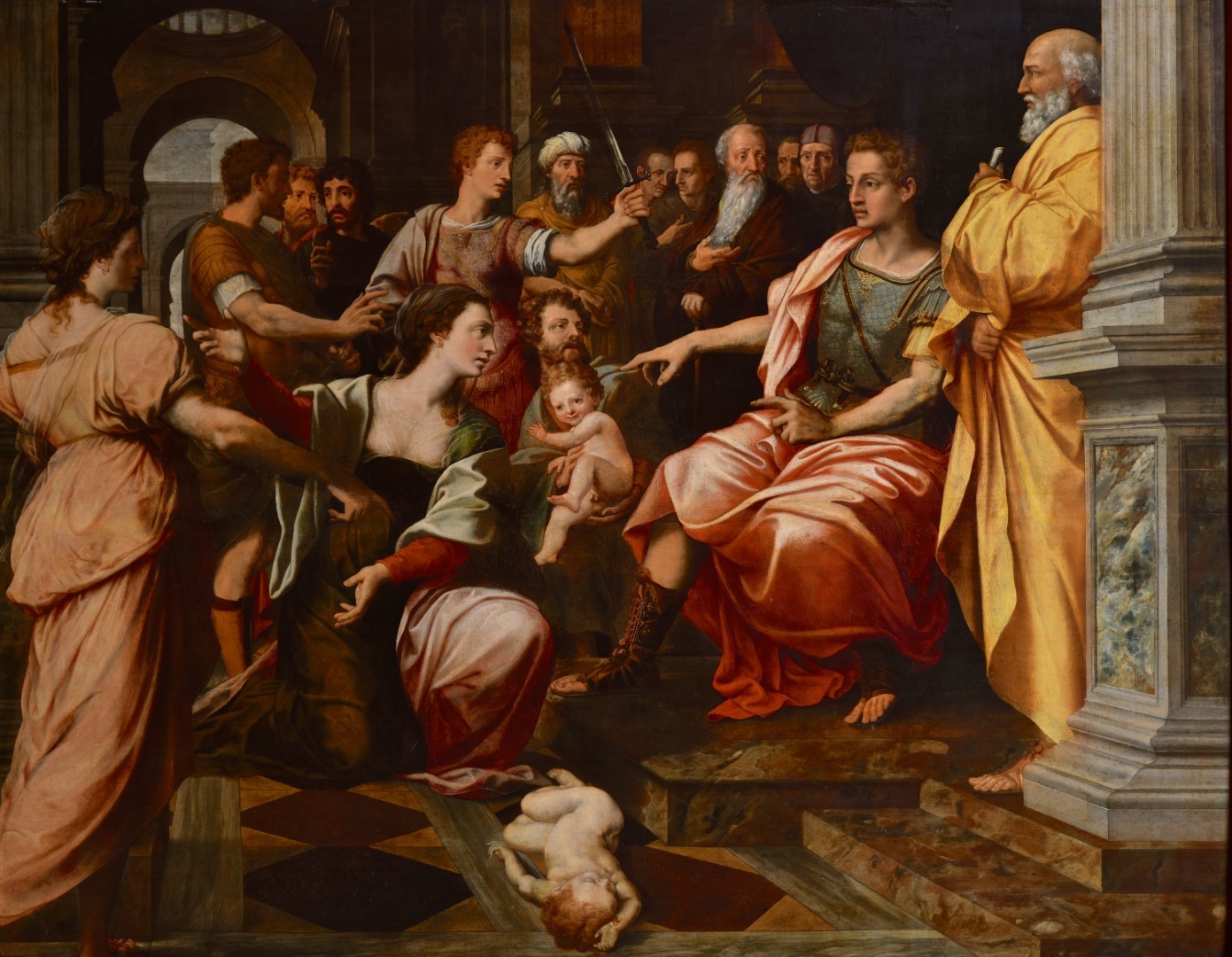 The wise Jewish King Solomon pronounces his judgement, arm extended. The child, which is claimed by two women, will be cut in two with a sword, so that each woman may receive half. The real mother kneels down at the king's feet and immediately relinquishes her claim to the child to save its life even though it would be forced to live with another woman as its mother. The second woman points at her own child, which died. Thanks to Solomon's judicious ruling and the response of both women, the real mother is revealed (1 Kings 3:16-28).
Sixteenth-century law courts were often decorated with representations of this Old Testament narrative of the Judgement of Solomon. They served as examples for the judges of how a wise and shrewd ruling leads to justice and the truth.
In 1569, Michiel Coxcie received a commission from the Brussels magistrates to complete their painting of the Judgement of Solomon, which Lucas van Nevele had started work on several years earlier. Contrary to previous assertions, this is not the painting from Museum Hof van Busleyden. A later copy (17th century?) exists of the Mechelen painting.
__
INFORMATION
Title: The Judgement of Solomon
Object type: painting
Maker: Michiel Coxcie I (1499- 1592) (Workshop)
Date: 16th century
Medium: oil on panel
Dimensions: 154.0 x 187.0 cm
Inventory number: S1100
Origin: In a British private collection until 1992, after which it ended up in a Spanish private collection. In April 2005, Museum Hof van Busleyden acquired this work from an art dealer.
BIBLIOGRAPHY
Karl Johnson, 'Coxcie in Brussels', Handelingen van de Koninklijke Kring voor Oudheidkunde, Letteren en Kunst van Mechelen 96(2) (1992): 247-255.
Koenraad Jonckheere, Michiel Coxcie (1499-1592) and the Giants of his Age. Tienen, 2013: 39-40.
Edmond Roobaert, 'Het oordeel van Salomon', Handelingen van de Koninklijke Kring voor Oudheidkunde, Letteren en Kunst van Mechelen 109(1) (2005): 153-204.