The Explosion of Zandpoort
Museum Hof van Busleyden is currently closed for restoration. In spring 2024, the museum will reopen with a renewed permanent exhibition and the exposition Knights of the Golden Fleece. Stay up to date on the museum programme.
The Explosion of Zandpoort
Jan Verhuyck
around 1680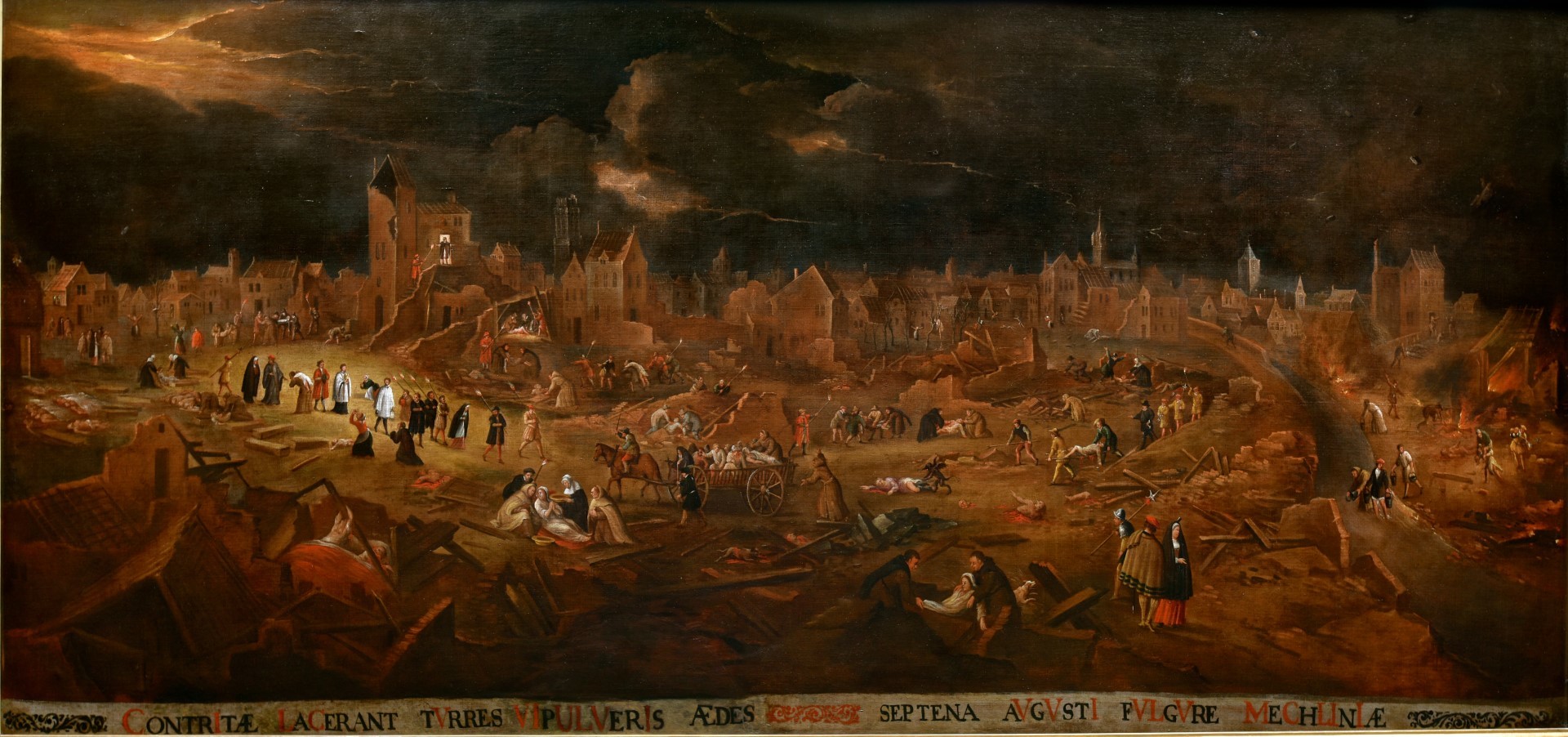 In the sixteenth century, Mechelen had twelve city gates. Zandpoort was one of the smaller gates, but equally important, nonetheless, as this was were the city's central powder depot was situated. On the evening of 7 August 1546, the tower and powder depot were struck by lightning, resulting in a huge explosion. A large part of the city was destroyed. Three hundred people were killed, and another six hundred injured in the explosion.

The European press was quick to pick up on the explosion of Zandpoort in Mechelen. Readers in German Reformist circles saw this as a punishment by God because the city continued to profess its loyalty to the Catholic Church. After this event, the new raised earth mounds or ramparts were widely adopted. They provided a better defence for the city and the (triangular) bastions that connected them were a good place to store gunpowder and weapons.
This painting commemorates the destruction of the 1546 explosion, depicting a pious community in which people come to each other's rescue. It was painted c. 1680 by Jan Verhuyck, who was born and died in Mechelen. During his lifetime, he was known as a painter of seascapes, battles and group portraits. Verhuyck may have possibly been inspired by a similar painting, from 1546, which now belongs to the collection of Museum M in Leuven (S/434/O).
__
INFORMATION
Title: The Explosion of Zandpoort in 1546
Object type: painting
Maker: Jan Verhuyck (1622-1681/2)
Date: around 1680
Medium: oil on canvas
Dimensions: 177.8 x 352 cm.
Inventory number: S0227
BIBLIOGRAPHY
Henri Installé, 'Verwoesting en wederopbouw te Mechelen in de zestiende eeuw'. In: Verwoesting en wederopbouw van steden van de middeleeuwen tot heden. Brussels, 1999: 155-184.
Pieter Groenendijk, Beknopt biografisch lexicon van Zuid- en Noord-Nederlandse schilders, graveurs, glasschilders, tapijtwevers et cetera van ca. 1350 tot ca. 1720. Leiden, 2008.