The Dance of the Virtues
anonymous
inscription at the bottom indicates 1545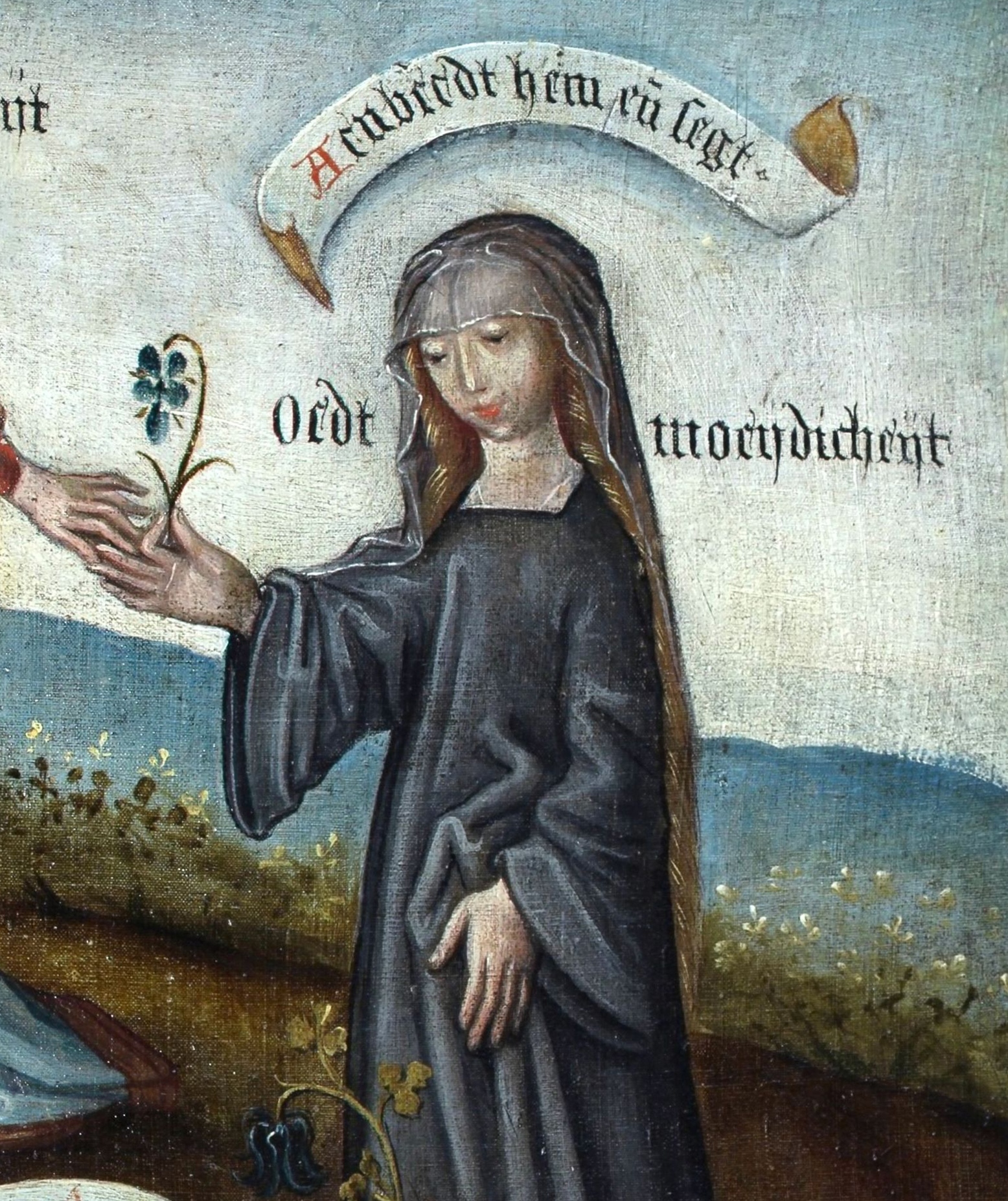 Twelve female figures, each with an inscription and a flower, hold hands. Rechtverdicheijt, Gheloeve, Hope, Die liefde goeds, … (Justice, Faith, Hope, the Love of God…). Each of these personifications represents a Christian virtue. Together they form an enclosure around a Christ Blessing, like an enclosed garden. The inscription at the bottom reads as follows: 'Den dans der dueghden aenmerckt hier claer Die als ghestustere (sic) tsamen schooene Ihesum hueren brijdegoem neemen waer Om hem te (c)rijghen tot hueren looene 1545' (Here the virtues clearly dance, like sisters (sic) who have taken beautiful Jesus as their bridegroom, receiving him (his love) as their reward).
The painting of the dance of the virtues is an early example of a painting on canvas. While the artist is anonymous, it was probably produced in Mechelen. In the 16th century, the city was a famous production centre of (cheap) paintings on linen. Fifty years later, Karel van Mander (1548-1606) wrote that there were over 150 workshops of Doeck-schilders (painters who painted on canvas) in Mechelen. The doll-like physiognomy of the virgins (high forehead, almond-shaped eyelids and pouts) is reminiscent of the tiny wooden statuettes called Poupées de Malines, that were produced on a large scale in the city.
__
INFORMATION
Title: The Dance of the Virtues
Object type: painting
Maker: anonymous
Date: inscription at the bottom indicates 1545
Medium: oil on canvas, marouflé
Dimensions: 84.0 x 112.5 cm
Inventory number: OCMW S0024
Origin: hung on the wall in the office of Onze-Lieve-Vrouwgasthuis (Hospital of Our Lady) in Mechelen in the late 19th century. In 2000, the public social welfare centre (OCMW) requested that the City of Mechelen manage this asset.
BIBLIOGRAPHY
Heidi De Nijn, 800 jaar Onze-Lieve-Vrouwgasthuiszusters: Uit het erfgoed van de Mechelse gasthuiszusters en het OCMW. Mechelen, 1998: 77-78.
Hannah Iterbeke, 'Cultivating Devotion The Sixteenth-Century Enclosed Gardens of the Low Countries'. In: IKON: Journal of Iconographic studies 10 (2017): 237-250.
Andrea Pearson, Gardens of Love and the Limits of Morality in Early Netherlandish Art.Leiden/Boston, 2019: 148.
Stefan Vandenberghe, Inventaris van het kunstpatrimonium van het Openbaar Centrum voor Maatschappelijk Welzijn en van het O.L.Vrouwgasthuis (Zusters Augustinessen) te Mechelen. Unpublished dissertation, 1980: 11.
Paul Vandenbroeck, Hooglied: De Beeldwereld van Religieuze Vrouwen in de Zuidelijke Nederlanden vanaf de 13de eeuw. Brussels/Ghent, 1994: 252.
Prosper Verheyden, 'De Maagdendans'. In: Handelingen van de Koninklijke Kring voor Oudheidkunde, Letteren en Kunst van Mechelen 27 (1922): 89-116.