Scenes of the Conquest of Tunis
Scenes of the Conquest of Tunis
Willem de Pannemaker, after cartoons by Jan Cornelisz. Vermeyen and Pieter Coecke van Aelst
1565-1566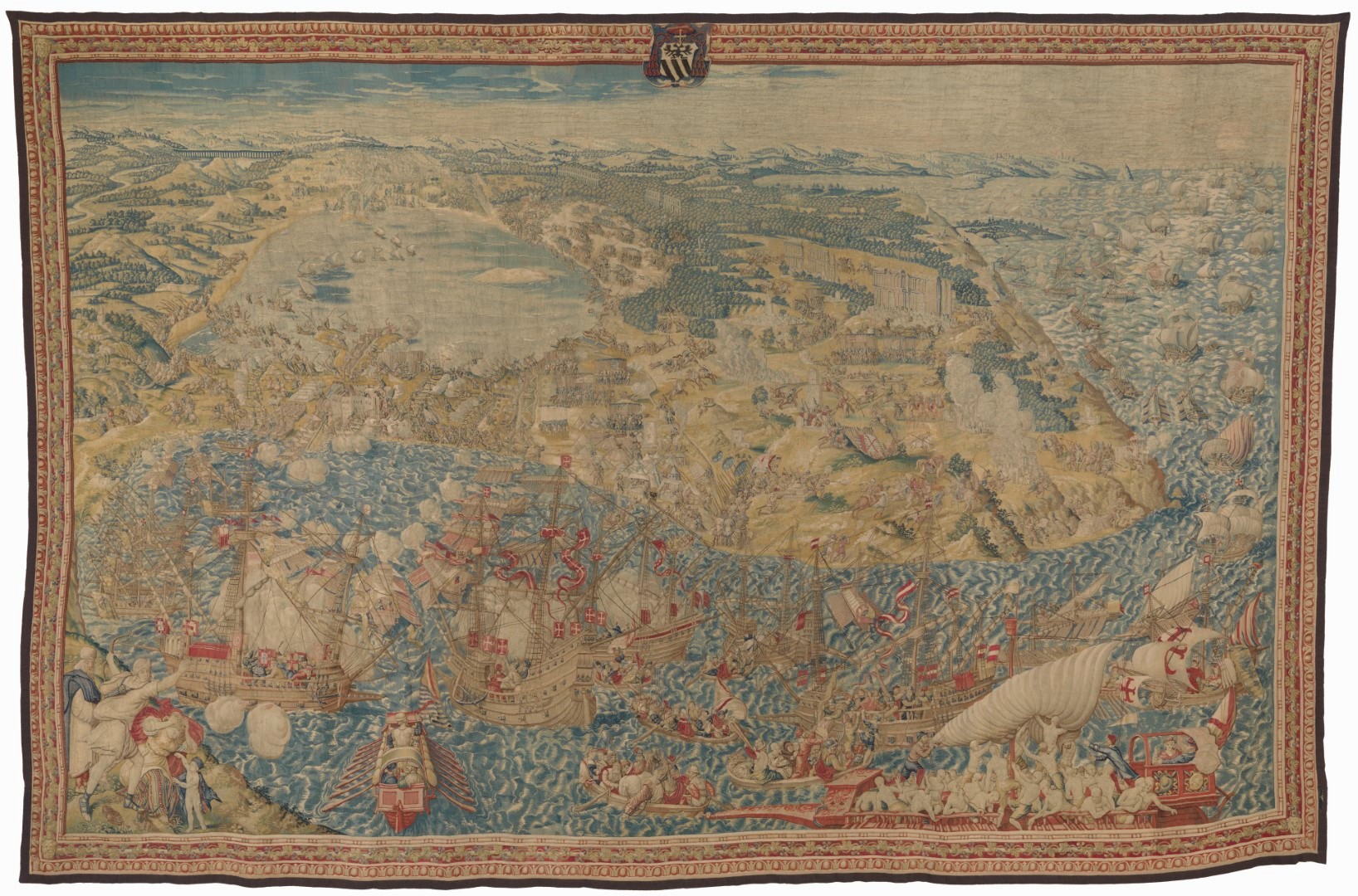 It was Charles V's most expensive art commission ever: a series of twelve tapestries, depicting the Conquest of Tunis by the imperial troops in 1535. Jan Cornelisz. Vermeyen and Pieter Coecke van Aelst designed the cartoons. The tapestries were woven in the Brussels workshop of Willem de Pannemaker. Vermeyen had travelled to North Africa with the emperor. The entire commission took eight years to complete (1546-1554), costing 26,000 pounds. The emperor made regular enquiries about the weavers' progress. The series was exhibited during ceremonies and festivities and depicted Charles V as the defender of the Christian faith against the Turks.
Various (partial) copies were made of the Tunis series. This is one of them. It is based on two cartoons and depicts the conquest of La Goulette, the fortress which defended the port of Tunis. It was commissioned by Antoine Perrenot de Granvelle (1517-1586), the first archbishop of Mechelen. It hung in Hof van Savoye, Granvelle's residence. His coat of arms has been woven into the top of the tapestry. Granvelle's father Nicolas had participated in the expedition to Tunis.
Ten of the twelve original tapestries are currently preserved in the Patrimonio Nacional in Madrid. The cartoons are displayed in the Kunsthistorisches Museum in Vienna.
__
INFORMATION
Title: Scenes of the Conquest of Tunis (the Conquest of La Goulette)
Object type: tapestry
Maker: Willem de Pannemaker (1512 – 1581), after cartoons by Jan Cornelisz. Vermeyen (c. 1490 – 1559) and Pieter Coecke van Aelst (1502-1550)
Date: 1565-1566
Medium: wool, silk
Dimensions: 365 x 575 cm
Inventory number: Tx0024
Origin: property of the French de Contades family since the 18th century (Maine-et-Loire). Acquired by the City of Mechelen in 1957
BIBLIOGRAPHY
Thomas P. Campbell, Tapestry in the Renaissance. Art and Magnificence. New York, 2002: 385-391 and cat. 50: 428-434.
Guy Delmarcel, Het Vlaamse wandtapijt van de 15de tot de 18de eeuw. Tielt, 1999: 135-136.
Paulina Junquera de Vega and Concha Herrero Carretero, Catalogo de Tapices del Patrimonio Nacional. Volumen I: Siglo XVI. Madrid, 1986: 73-92.
Wilfried Seipel (ed.), Der Kriegszug Kaiser Karls V. gegen Tunis. Kartons und Tapisserien. Vienna, 2000.
Robert Born en Guido Massling, Het rijk van de sultan. De Ottomaanse wereld in de kunst van de renaissance. Tielt, 2015: 99-100.