Saint Roch of Montpellier
Museum Hof van Busleyden is currently closed for restoration. In spring 2024, the museum will reopen with a renewed permanent exhibition and the exposition Knights of the Golden Fleece. Stay up to date on the museum programme.
Saint Roch of Montpellier
anonymous
around 1520 - 1525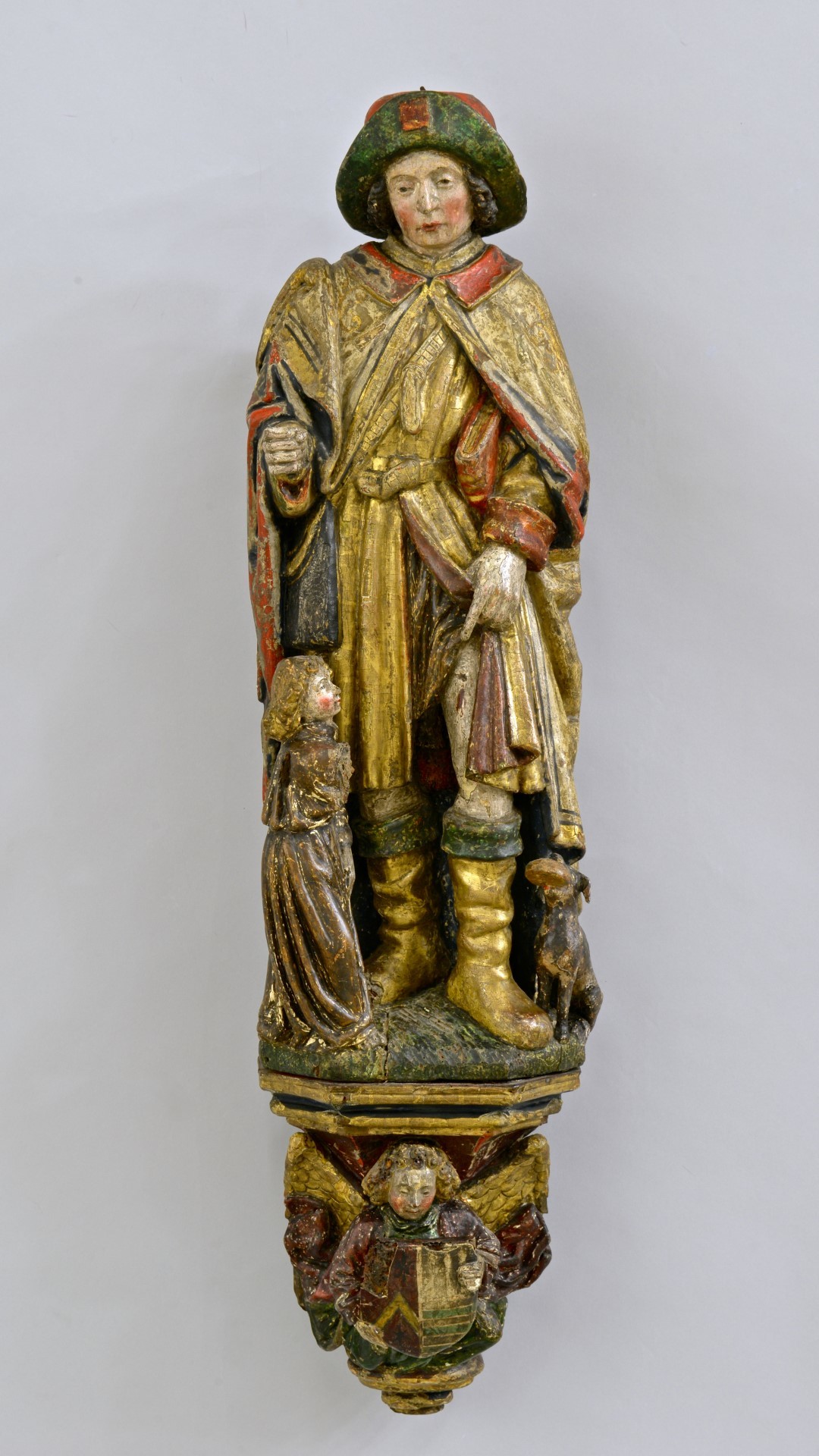 Saint Roch (1295-1327) is one of six saints of the Roman Catholic Church who are invoked against the plague.
At age 20, Roch is said to have distributed his worldly goods among the poor and the sick. He spent the rest of his life tending to the sick during the plague. He travelled to Rome as a mendicant pilgrim. Upon his return, he fell ill himself at Piacenza. He then withdrew into the nearby forest, afraid of infecting others. An angel miraculously cured him, while a dog supplied him with bread. Upon his return to Montpellier, Roch, whose face was marked by the plague, was no longer recognised. He was arrested as a spy and thrown into prison, where he died.
This statue was carved in a Mechelen workshop between 1500 and 1550. The maker added the city's mark, which consists of three bars or lines. Roch is accompanied by an angel and points at his wound, which the dog licks. The pilgrim's staff in his right hand is missing. The console features an unidentified coat of arms.
Museum Hof van Busleyden has three other, similar statues of plague saints in its collection: a Saint Christopher, a Saint Adrian of Nicomedia and a Saint Anthony. The Rijksmuseum in Amsterdam owns a statue of Saint Sebastian, which probably belonged to the same series.
The statues were probably originally created for the Hospital of Our Lady in Mechelen.
__
INFORMATION
Title: Saint Roch of Montpellier
Object type: statue of a saint
Maker: anonymous
Date: around 1520 - 1525
Medium: walnut, polychromy
Dimensions: height: 73 cm (sculpture), height: 28 cm (base)
Inventory number: OCMW B0003
Origin: from the public social welfare centre's (OCMW) art heritage. Given to the City of Mechelen to manage in 2000.
BIBLIOGRAPHY