Museum Hof van Busleyden is currently closed for restoration. In spring 2024, the museum will reopen with a renewed permanent exhibition and the exposition Knights of the Golden Fleece. Stay up to date on the museum programme.
Saint Lucy
Anonymus
c. 1500 - 1530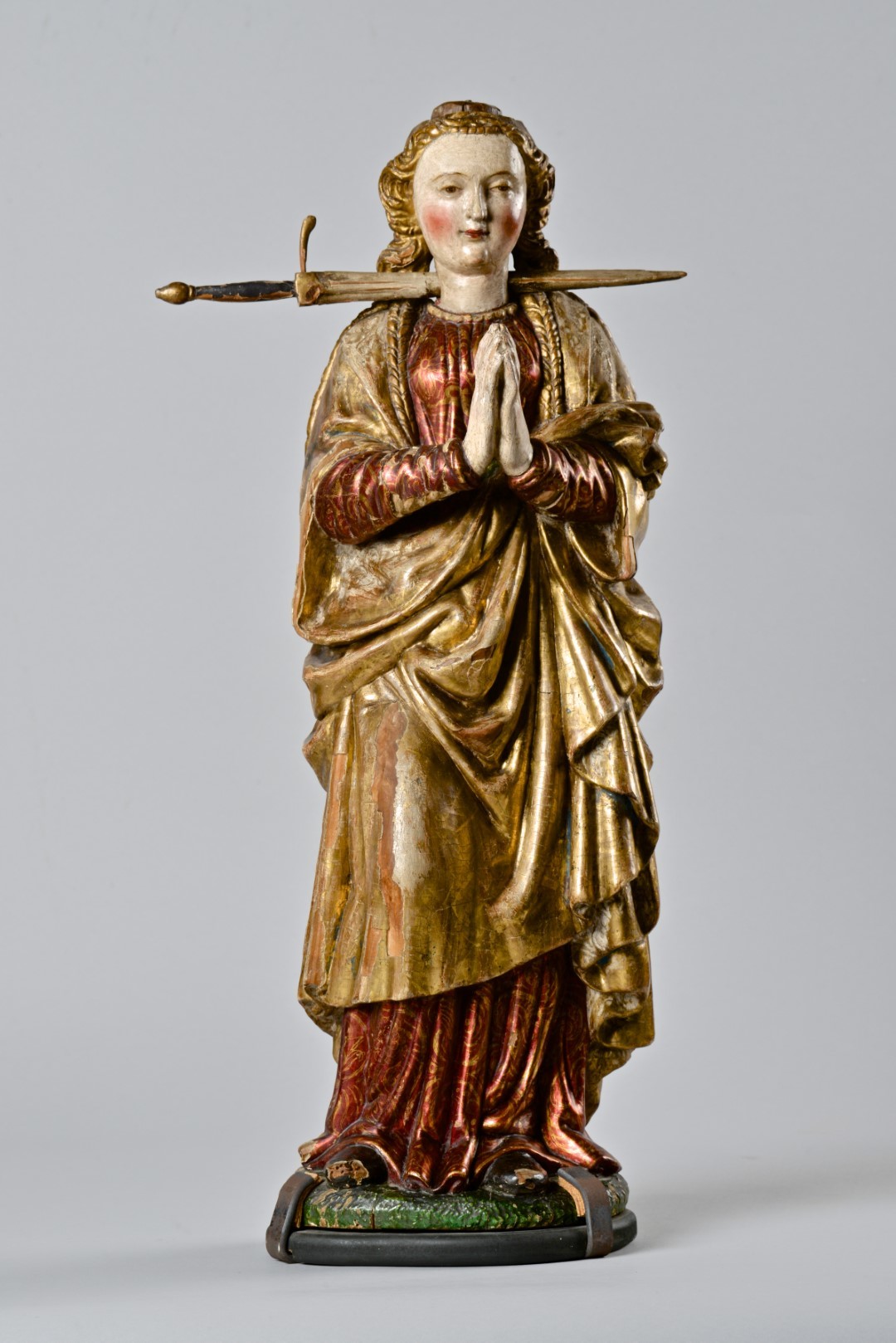 Lucia of Syracuse (283-304) is the patron saint of the blind. Her feast day is celebrated on 13 December, the shortest day of the year according to the Julian calendar. The return of the light is an important aspect of her veneration. Her feast day is celebrated as a feast of light, especially in Scandinavian countries.
According to legend, Lucia and her mother, who was very poorly, visited the shrine of Saint Agatha in Catania, in Sicilia. When her mother was miraculously cured, Lucia distributed all her riches among the poor. Her Roman betrothed was angered by this and denounced her as a follower of Christ. The fact that she refused to burn a sacrifice to the Roman gods and the emperor's image only made things worse. Lucia was sentenced to be defiled in a brothel. When the guards came to take her away, she could not be moved, not even when hitched to a team of oxen. She was then sentenced to be burnt at the stake, but the fire would not burn. Finally, the executioner thrust a sword into her throat. The saint is portrayed with this attribute.
This statue of Saint Lucy was carved in a Mechelen workshop between 1500 and 1530.
__
INFORMATION
Title: Saint Lucy
Object type: statue of a saint
Maker: anonymous
Date: c. 1500-1530
Medium: wood, polychromy, sheet metal, tin
Dimensions: height: 70,5 cm
Inventory number: OCMW B0007
Origin: from the public social welfare centre's (OCMW) art heritage. Given to the City of Mechelen to manage in 2000
BIBLIOGRAPHY
Joseph de Borchgrave d'Altena, 'Statuettes malinoises', Bulletin des Musées royaux d'art et d'histoire du Cinquantenaire (1959),
Fanny Cayron and Delphine Steyaert, Made in Malines. Les statuettes malinoises ou poupées de Malines de 1500-1540. Étude matérielle et typologique. Brussels, 2019.
Willy Godenne, 'Six statuettes polychromées de l'hôpital Notre-Dame à Malines', Handelingen van den Kring voor Oudheid, Kunst & Letterkunde van Mechelen 64 (1960): 108-112.
Emmanuel Neeffs & Hyacinthe Coninckx, Tableaux, sculptures et objets d'art conservés dans les édifices religieux et civils de Malines. Mechelen 1891: 268.
Dries Van den Akker, 'Lucia van Syracuse', Heiligen.