Puppetry at the Court of Margaret of Austria
Puppetry at the Court of Margaret of Austria (Mechelen 1515)
Willem Geets
1897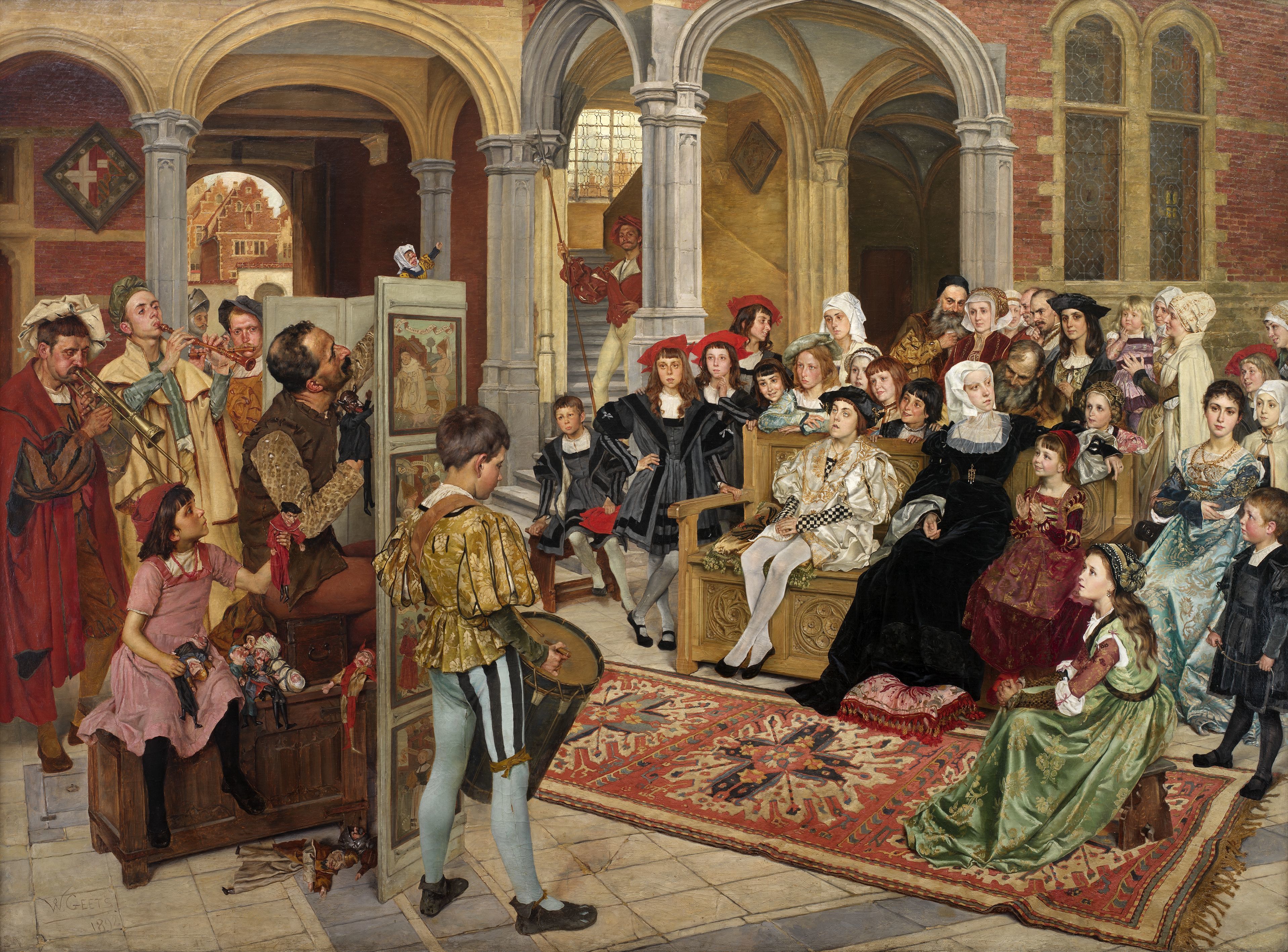 1515: the young Prince Charles (b. 1500) is raised in Mechelen at the court of his aunt, Margaret of Austria. Here he is prepared to take on his duties as rulers of a global empire. Almost 500 years later, Willem Geets (Mechelen 1838-1919) becomes inspired by Charles's childhood years in Mechelen. Besides portraits, Geets also produces history paintings. Unlike the history paintings of the romantic period, these do not depict illustrious battles or heroes who confront the enemy on their own. Geets is inspired by minor events in the lives of historical figures, the anecdotes from the side-lines of the past. He often finds inspiration in the 16th century.
Willem Geets was quite famous in his lifetime. His contemporaries praised the 'marvellous accuracy' of his paintings, while others highlighted the 'far-reaching rigour with which he approaches the truth in the past in his scenes'. He made preliminary sketches to guarantee this correctness (HvB, inv. nos S0810 and S0863). Geets only wanted to paint scenes that were consistent with historical facts, rather than legends. One might therefore be tempted to conclude that this puppet show at the court of Margaret of Austria really did take place. We have no idea where Geets would have gotten this historical information, however.
__
INFORMATION
Title: Puppetry at the Court of Margaret of Austria (Mechelen 1515)
Object type: painting
Maker: Willem Geets (1838-1919)
Date: 1897
Medium: oil on canvas
Dimensions: height: 155 cm,
width: 208 cm
Inventory number: S0631
Origin: acquired from the artist in 1898
BIBLIOGRAPHY
Robert Hoozee, 'Luisteren naar Erasmus'. In: Mise-en-scène. Keizer Karel en de verbeelding van de negentiende eeuw, tent.cat., Museum voor Schone Kunsten. Gent, 2000: 137-143.
Wim Hüsken, 'Kunstwerk in de kijker (IV): Willem Geets, Poppenspel aan het hof van Margareta van Oostenrijk (1891), Stedelijke Musea Mechelen, inv.nr. S/631', Mededelingenblad Koninklijke Kring voor Oudheidkunde, Letteren en Kunst van Mechelen 43(3) 2012: 21-25.
Brigitte Raskin, De gestolen prinses, Leuven. Davidsfonds, 2009.