Portrait of John the Fearless, Duke of Burgundy
Portrait of John the Fearless, Duke of Burgundy
anonymous
ca. 1450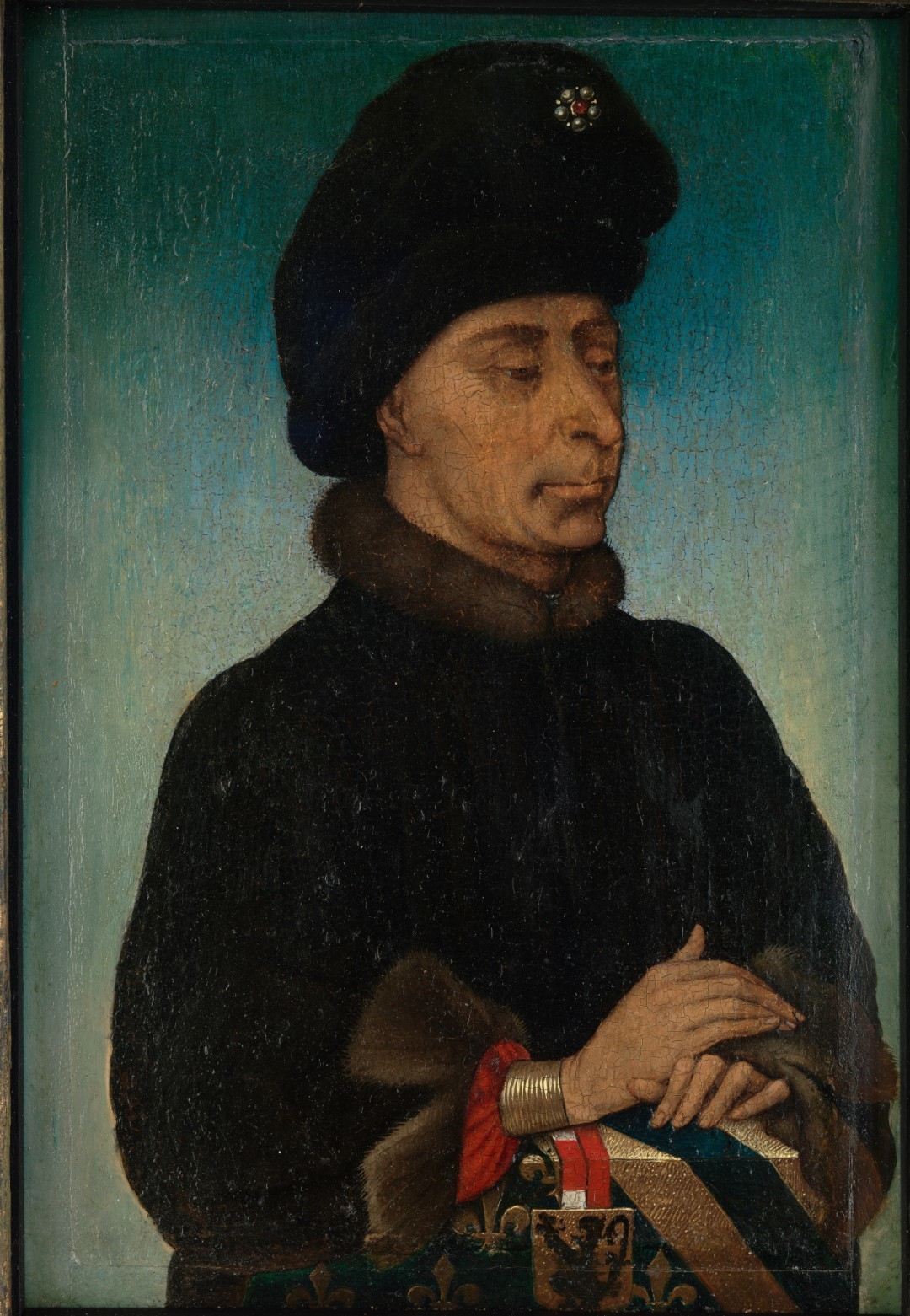 John the Fearless, the Duke of Burgundy (1371-1419) wears an austere but luxurious fur-lined black cloak. This colour became very fashionable under the Dukes of Burgundy. He is probably kneeling on a kneeler that is draped with a tunic featuring the lily of the French House of Valois. A coat of arms featuring the Flemish Lion is appended to it. The former points to the origin of the Dukes of Burgundy, while the latter (deliberately?) refers to their future in the rich County of Flanders.
The portrait is dated c. 1450 but refers to an original from c. 1415. This is a very early portrait. The oldest preserved individual portrait in Western painting since antiquity is that of John II of France, the grandfather of John the Fearless. This dates from c. 1360 (Louvre, Paris). He is portrayed in profile, like the monarchs on antique coins. The portrait of John the Fearless, however, is a ¾ portrait, because ¾ of his body and torso are turned toward us. This pose is less severe and was frequently used in subsequent portraits of the dukes of Burgundy.
__
INFORMATION
Title: Portrait of John the Fearless, Duke of Burgundy
Object type: painting
Maker: anonymous
Date: ca. 1450
Medium: oil on panel
Dimensions: 34 × 26,7 × 6 cm
Origin: on long-term loan from the Royal Museum of Fine Arts Antwerp (Inv. 540)
BIBLIOGRAPHY
Jos Koldeweij, Eva Tahon and Inge Geysen (ed.), Liefde en devotie: het Gruuthusehandschrift: kunst en cultuur omstreeks 1400. Antwerp, 2013: 51.
Paul Vandenbroeck, Catalogus schilderijen 14e en 15e eeuw. Koninklijk Museum voor Schone Kunsten Antwerpen. Antwerp, 1985: 28-32.