As of March 2022, the Museum Hof van Busleyden will be undergoing restoration. The permanent exhibition will therefore not be accessible for some time. More information .
Plus nulz regretz
Anne-Mie Van Kerckhoven
2015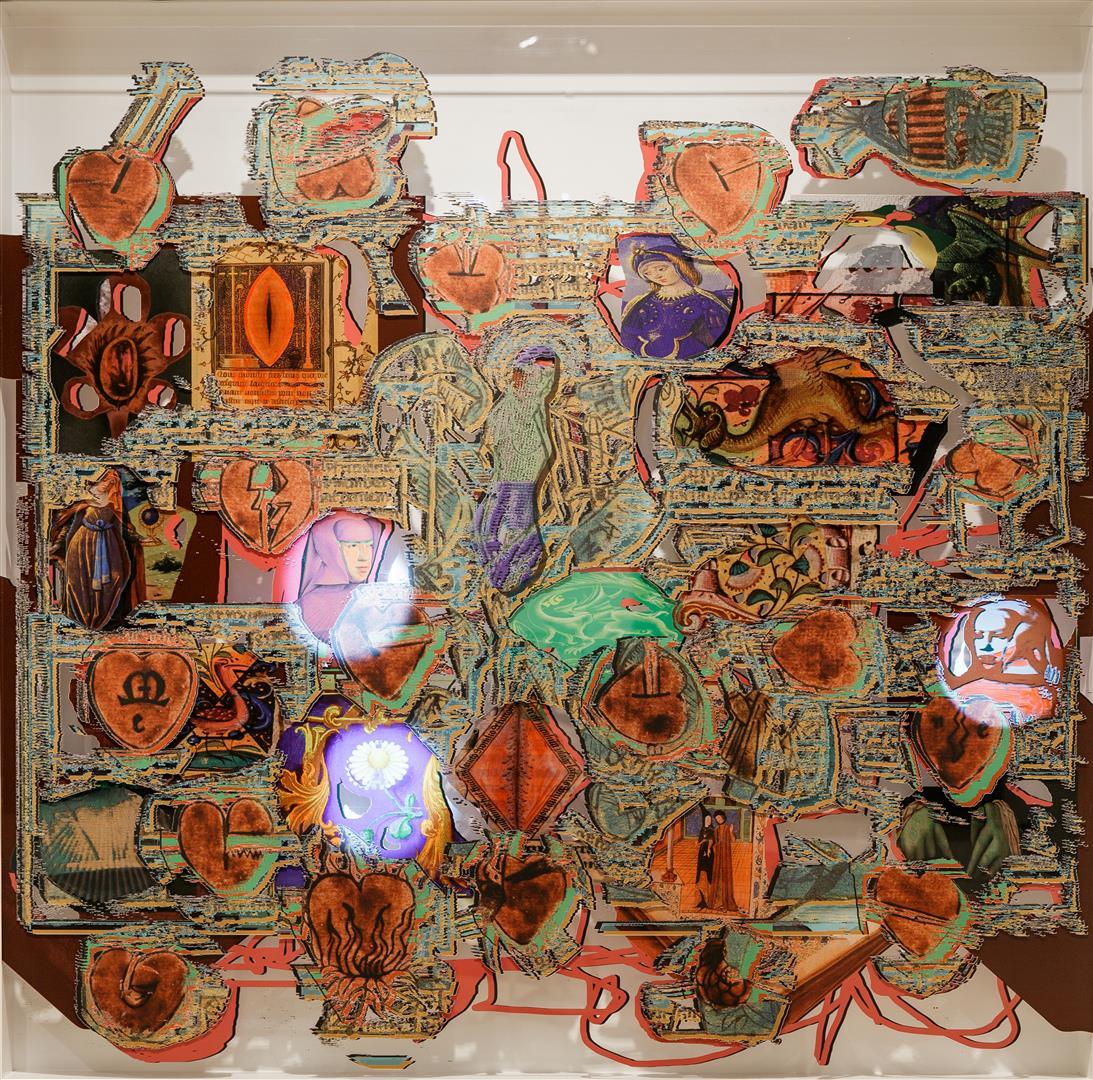 Margaret of Austria continues to be a source of inspiration. In this work, which the Antwerp artist Anne-Mie van Kerckhoven created in 2015, she provides a contemporary interpretation of the visual symbolism in Margaret of Austria's life. The artwork starts from a fifteenth-century woodcut by Master Casper von Regensburg about the power of Lady Love. It depicts an unclothed Lady Love, surrounded by 18 wounded and captured men's hearts. Each heart features an explanation about how a man's heart can be broken. Van Kerckhoven has added all kinds of iconographic and devotional symbols. Margaret of Austria is explicitly present in the work, among others through her portrait, the daisy and the letter 'M'.
The shape of this artwork is inspired by an iconostasis (a wall of icons) in an orthodox church. The searchlight over the artwork also refers to this.
Anne-Mie van Kerckhovencreated Plus Nulz Regretz for an eponymous performance on 19 August 2015 during the Laus Polyphoniae Festival in Antwerp and on 13 October 2016 in Enschede's Great Church. The Zefiro Torna ensemble performed songs from a chansonnier that belonged to Margaret of Austria, with compositions by Flemish polyphonists such as Pierre de la Rue and Johannes Ockeghem.
__
INFORMATION
Title: Plus nulz regretz
Object type: digital collage
Maker: Anne-Mie Van Kerckhoven (1951-)
Date: 2015
Medium: gesso and acrylics on Plexiglas
Inventory number: G2177
Origin: donation Zefiro Torna vzw