Mechelen's beguines at work
Mechelen's beguines at work
anonymous
17th century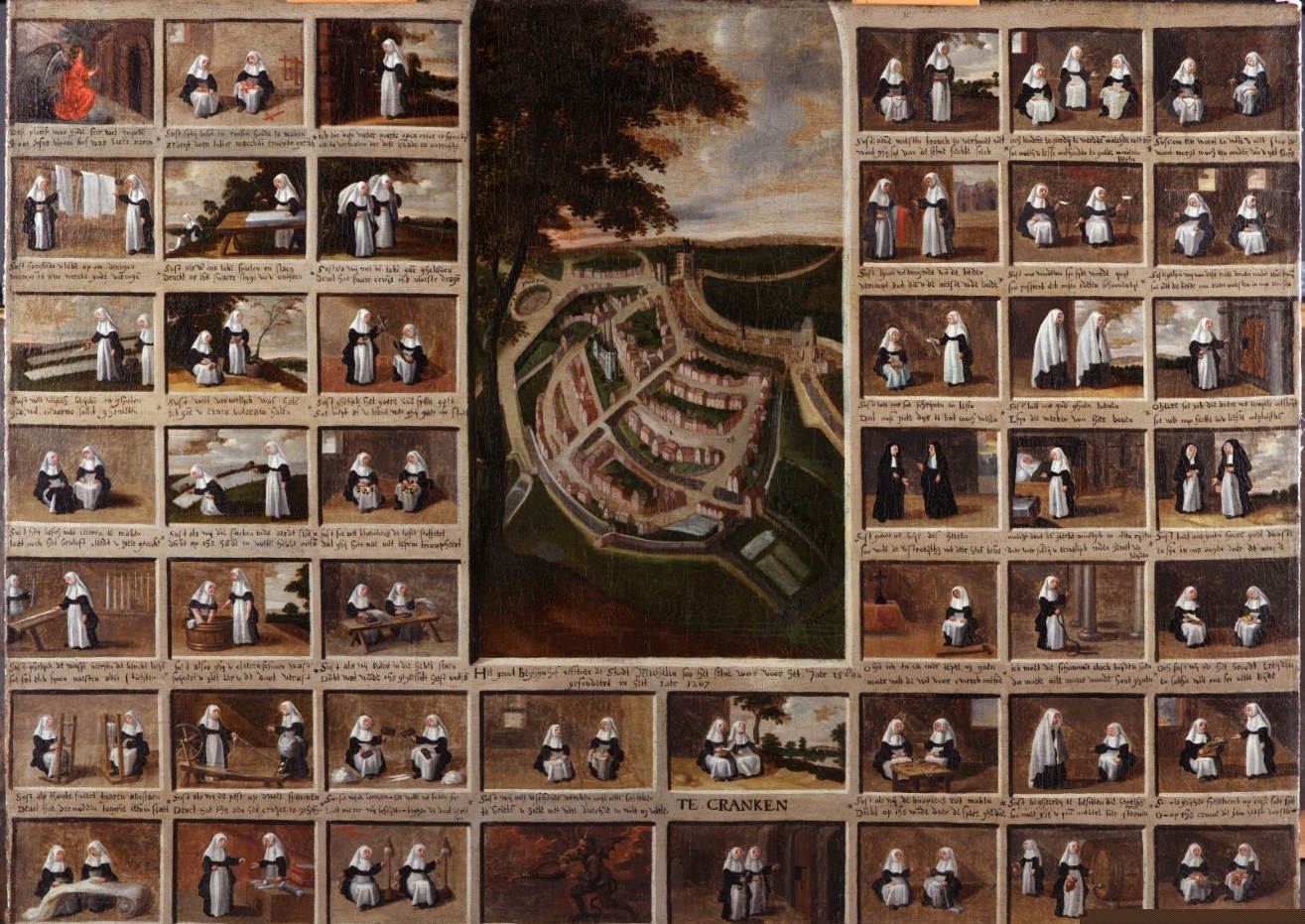 In this painting, a bird's eye perspective of the old beguinage in Mechelen is surrounded by 46 scenes. The old beguinage was situated outside the city walls. In 1578, it was razed and moved to the city centre. Each of the surrounding scenes represents one of the daily activities of Mechelen's beguines. Two lines of explanation are inscribed under each scene. The first sentence explains which activity the two beguines are carrying out, whereas the second sentence refers to the spiritual reward for this duty. 'Suster sijdy besich met roosenhoeden te maeken / aerbeyt om totten maechden croon te geraken' (Sister, are you making rosaries (a crown for the Virgin) / an activity to be crowned as a virgin (to become Jesus' bride).

The painting was probably created during the 17th century. The painter probably relied on the map of Mechelen that Jan van Hanswijck produced in 1594 for this bird's eye perspective.
This painting used to hang in the stairwell of the Hospital of Our Lady in Keizerstraat in Mechelen. A second, slightly different version graced the walls of the house of the director of the Oude Liedengesticht (hospice for the elderly). It was unfortunately lost (before 1943). Jan Schoeffer, a canon in Mechelen, also created an album with watercolours of this painting, which is preserved in Mechelen's City Archives. For now, we can only guess how this painting found its way into the collection of the Hospital of Our Lady.
__
INFORMATION
Title: Mechelen's beguines at work
Object type: painting
Maker: anonymous
Date: 17th century
Medium: oil on canvas
Dimensions: 134.0 x 175.5 cm
Inventory number: OCMW S0059
Origin: In 1993, the public social welfare centre (OCMW) requested that the City of Mechelen manage this asset.
BIBLIOGRAPHY
Hannah Iterbeke, 'Cultivating Devotion: The Sixteenth-Century Enclosed Gardens of the Low Countries', IKON: Journal of Iconographic Studies 10 (2017): 237-250.
L.J.M. Philippen, 'Begijnen-werkzaamheden naar een schilderij in 't Mechelsch begijnhof'. In: Willy Godenne (ed.), Prosper Verheyden gehuldigd ter gelegenheid van zijn zeventigsten verjaardag 23 October 1943. Mechelen, 1943: 51-70.
Paul Vandenbroeck, Hooglied: De Beeldwereld van Religieuze Vrouwen in de Zuidelijke Nederlanden vanaf de 13de eeuw. Brussels/Ghent, 1994: 254-255.
Xander van Eck, 'Between Restraint and Excess: The Decoration of the Church of the Great Beguinage at Mechelen in the Seventeenth Century', Simiolus: Netherlands Quarterly for the History of Art 28 (2000): 129-162.