Museum Hof van Busleyden is currently closed for restoration. In spring 2024, the museum will reopen with a renewed permanent exhibition and the exposition Knights of the Golden Fleece. Stay up to date on the museum programme.
Fortuna
anonymous
1585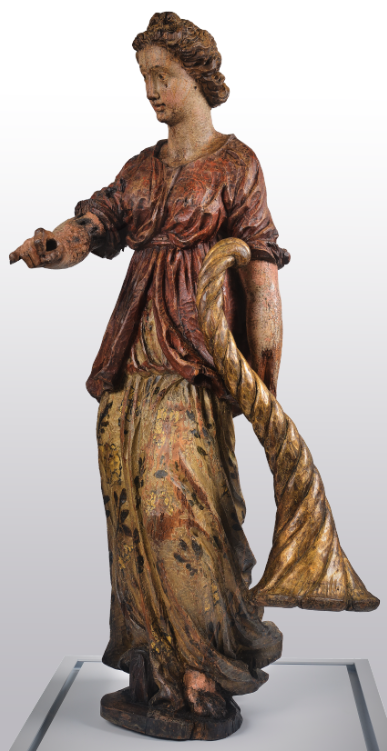 The meaning of this allegorical female figure can be deduced from the cornucopia or horn of plenty that she is carrying. This attribute refers to Fortuna (the goddess of fortune) or Liberalitas (the virtue of giving freely).
Allegorical figures were mainly produced for joyous entries, the festive welcome given to a new ruler in large cities. They were part of an arsenal of decorations, such as tableaux vivants, chariots and triumphal arches. The city wished the new ruler all the best with these decorations, but also used them to imply what it expected from this new ruler and his policies.
This sculpture was preserved for many centuries in the attic of Antwerp's town hall. It was probably made for the city. The Renaissance style implies that it was made in the late 16th century, a turbulent period in the city's history when it transitioned from Calvinist rule to the Catholic Habsburgs again. We are uncertain for which joyous entry this sculpture was made. The illustrated description of the Joyous Entry of Archduke Ernest of Austria features a triumphal arch with an effigy of Liberalitas that is very similar to this statue. These triumphal arches were often designed by prominent artists. In 1594, they were conceived by Maarten de Vos and Ambrosius Francken.
__
INFORMATION
Title: Fortuna
Object type: sculpture
Maker: anonymous
Date: 1585
Medium: limewood, painted
Dimensions: height: 140 cm, width: 70 cm, depth: 65 cm
Origin: on long-term loan from the Museum aan de stroom (MAS), Antwerp (AV.0867.1-2)
BIBLIOGRAPHY
Johannes Boch, Descriptio publicae gratulationis, spectaculorum et ludorum in adventu sereniss. principis Ernesti, archiducis Austriae... an. 1594, XVIII kal. julias aliisque diebus Antverpiae editorum, cui est praefixa de Belgii principatu a romano in ea provincia imperio ad nostra usq. tempora brevis narratio... cum carmine panegyrico... accessit denique oratio funebris in archiducis Ernesti obitum... omnia a Joanne Bochio... conscripta. Antwerpen: Christoffel Plantin, 1594.
Margit Thøfner, 'Willingly We Follow a Gentle Leader…': Joyous Entries into Antwerp'. In: Jeroen Duindam, Sabine Dabringhaus (eds.), The Dynastic Centre and the Provinces: Agents and Interactions. Leiden, 2004: 185-202.
Margit Thøfner, A common art: urban ceremonial in Antwerp and Brussels during and after the Dutch revolt. Zwolle, 2007.
Irmengard Von Roeder-Baumbach en Hans Gerhard Evers, Versieringen bij blijde inkomsten : gebruikt in de Zuidelijke Nederlanden gedurende de 16e en 17e eeuw. Antwerpen, 1943.