Enclosed Garden with Calvary, the Virgin Mary and St John the Evangelist
Museum Hof van Busleyden is currently closed for restoration. In spring 2024, the museum will reopen with a renewed permanent exhibition and the exposition Knights of the Golden Fleece. Stay up to date on the museum programme.
Enclosed Garden with Calvary, the Virgin Mary and St John the Evangelist
anonymous
1525-28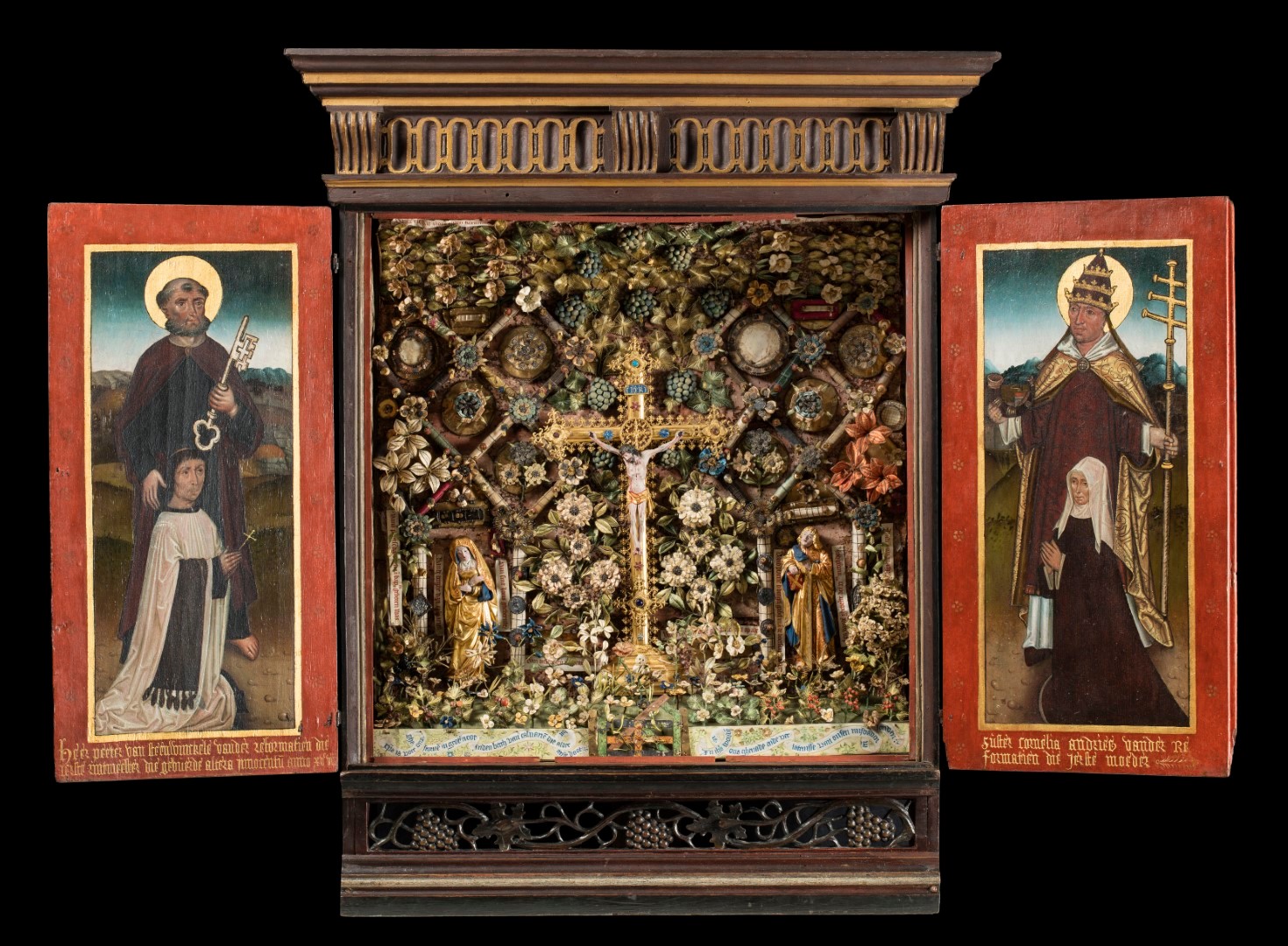 The central theme of this Enclosed Garden is the salvation of mankind, which is symbolised by the Crucifixion of Christ. The symmetrical structure of this Hortus ties in closely with that of the three largest Gardens (GHZ BH001, GHZ BH002 and GHZ BH006).
The Enclosed Garden with Calvary has painted wings, which represent four members of the Hospital of Our Lady in Mechelen and their respective patron saints. The opened left panel features Peeter van Steenwinckele, the hospital's first steward after the hospital's reform in December 1508. The bishop laid down new, stricter monastic rules as part of this 'reformation'. Saint Peter stands behind van Steenwinckele. The right wing depicts Sister Cornelia Andries, the first prioress after the reforms, who is accompanied by her patron saint, Saint Cornelius. The left outer panel represents Father Marten Avonts, the second steward, kneeling next to Saint Martin of Tours. The right outer panel depicts Jozijne van Coolene, the Mother Superior, along with Saint Judoc.
The presence of Marten Avonts suggests that this Enclosed Garden was created after Peeter van Steenwinckele's death in 1525. Prioress Cornelia Andries died three years later, in 1528. Based on this information, we can conclude that this Enclosed Garden dates 1525-1528. The painted wings are attributed to the Master of the Guild of Saint George (Mechelen). This attribution is uncertain, however.
__
INFORMATION
Title: Enclosed Garden with Calvary, the Virgin Mary and St John the Evangelist
Object type: Enclosed Garden
Maker: anonymous, collaboration
Date: 1525-28
Medium: mixed media Dimensions: 108.8 × 144.5 × 23.5 cm
Inventory number: GHZ BH 0003
Origin: From the collection of the Mechelen hospital sisters, where it was cherished for almost 500 years. On loan since 1999 to the City of Mechelen
BIBLIOGRAPHY
Barbara Baert, Late Medieval Enclosed Gardens of the Low Countries: Contributions to Gender and Artistic Expression. Leuven, 2016.
Hannah Iterbeke and Lieve Watteeuw, De Besloten Hofjes van Mechelen: Laatmiddeleeuwse paradijstuinen ontrafeld. Veurne/Amsterdam, 2018: 22-23; 76-77.
Camille Poupeye, 'Les Jardins clos et leurs rapports avec la sculpture malinoise', Bulletin du Cercle archéologique, littéraire et artistique de Malines 22 (1912): 51-114.