Enclosed Garden with Calvary and Hunt of the Unicorn
Museum Hof van Busleyden is currently closed for restoration. In spring 2024, the museum will reopen with a renewed permanent exhibition and the exposition Knights of the Golden Fleece. Stay up to date on the museum programme.
Enclosed Garden with Calvary and Hunt of the Unicorn
anonymous
1520-1530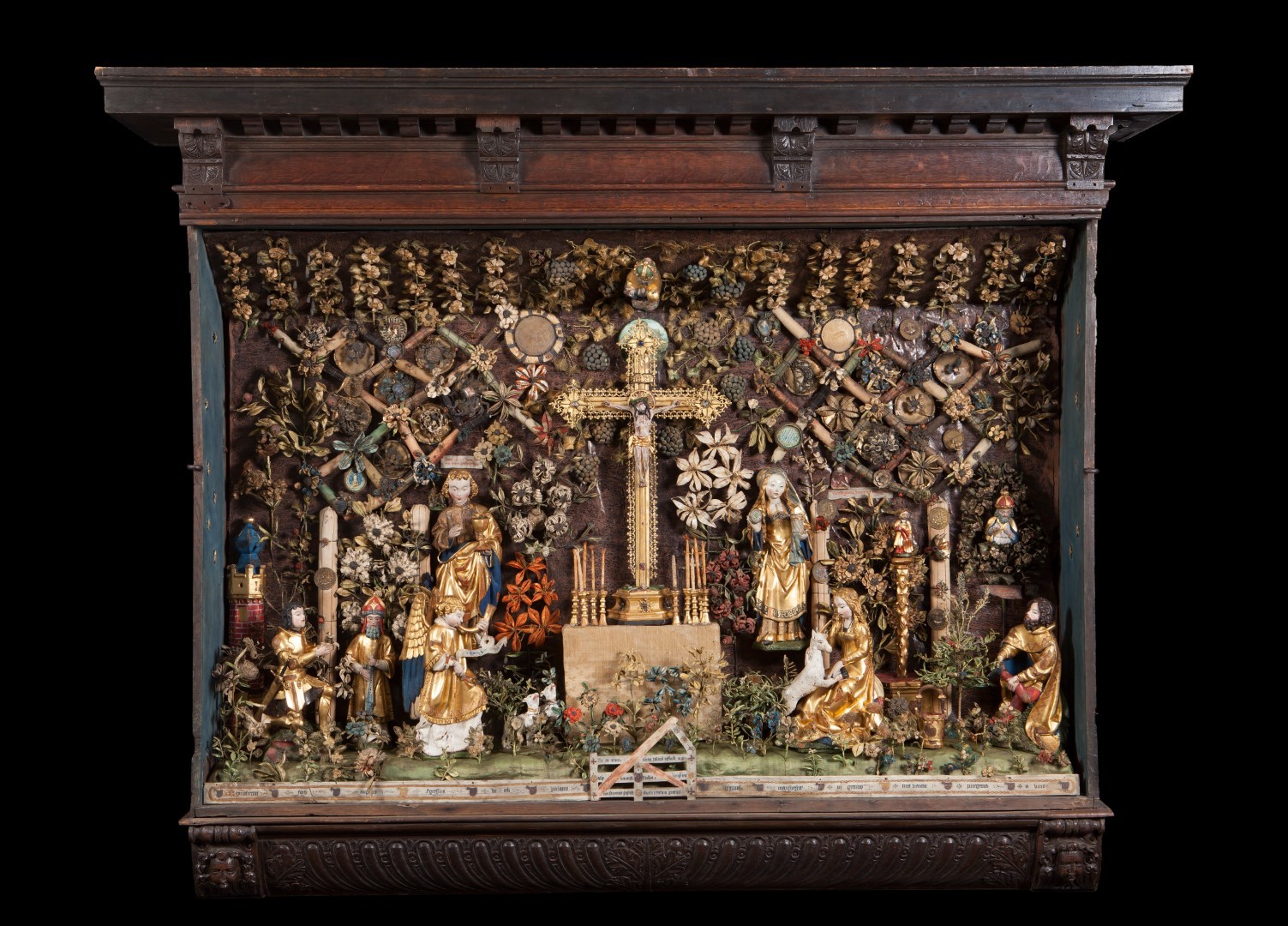 'You are like a garden, abounding with delights and many precious things, never corrupted or stained, from which the restored flower of mercy comes forth', reads the inscription on the tiny fence at the bottom of this Enclosed Garden. The words reveal the various layers of meaning of this Garden. Here the garden serves as a metaphor for the Virgin's womb whereas the flower refers to the Christ Child.
The virgin birth of Jesus and his resurrection are also the theme of the two groups of polychrome figures in the Enclosed Garden. The former illustrates the Hunt of the Unicorn. This legendary creature was described as a wild, untameable animal, which could not be captured. According to tradition, it could only be humbled by a virgin maiden. The theme of the hunt symbolises the Incarnation. God, the Word, could only become flesh in the womb of Mary, the purest virgin. This message is underscored by the inscription on the bottom of the hortus: "The unicorn, which has left the celestial palace for a powerful reign, has been tamed in the Virgin's womb, purifying us from the poison of sin.'
The second group consists of a crucified Christ on an altar. He is flanked by Saint John the Evangelist and Mary Magdalene, who can be identified by their attributes, namely a poisoned chalice and an alabaster jar.
__
INFORMATION
Title: Enclosed Garden with Calvary and Hunt of the Unicorn
Object type: Enclosed Garden
Maker: anonymous, collaboration
Date: 1520-1530
Medium: mixed media
Dimensions: 125,8 × 159,2 × 33,6 cm
Inventory number: GHZ BH0001
Origin: From the collection of the Mechelen hospital sisters, where it was cherished for almost 500 years. On loan since 1999 to the City of Mechelen
BIBLIOGRAPHY
Barbara Baert, Late Medieval Enclosed Gardens of the Low Countries: Contributions to Gender and Artistic Expression. Leuven, 2016.
Hannah Iterbeke and Lieve Watteeuw, De Besloten Hofjes van Mechelen: Laatmiddeleeuwse paradijstuinen ontrafeld. Veurne/Amsterdam, 2018: 22-23; 76-77.
Camille Poupeye, 'Les Jardins clos et leurs rapports avec la sculpture malinoise', Bulletin du Cercle archéologique, littéraire et artistique de Malines 22 (1912): 51-114.
Jan Van der Stock, Op zoek naar Utopia. Leuven, 2016: 214-217.