Ricardo Brey: Gap in the Clouds
Museum Hof van Busleyden - 20.05.2022 – 28.08.2022
Through Gap in the Clouds Ricardo Brey makes a positive statement and gives a ray of hope in these turbulent times. Brey was inspired to create a series of introspective works after experiencing the pandemic and the emotive race and gender equality protests. The new work is conscious of the past, but turns a brave face to the future.
In his work Ricardo Brey draws inspiration from the strength and depth of Afro-Cuban culture, from his personal recollections and from myth, legend and stories. In this exhibition the centrepiece is the Every Life is a Fire series: surprise and wonder evoked by a line of sealed boxes. Their opening is a ritual in itself, that focuses the mind on what is happening.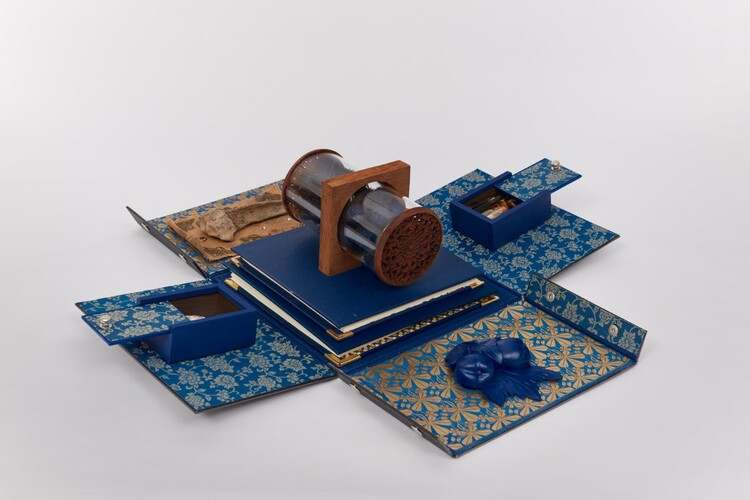 Sapphire Fluid, 2021 - Courtesy of the Artist and Alexander Gray Associates, New York - © 2022 Ricardo Brey/Artists Rights Society (ARS), New York
Family tour
Discover the exhibition together with children in our family tour. Cards take you on a journey through the wonderful world of artist Ricardo Brey. With mysterious boxes filled with dreams, turtles and special butterflies. The details of the artworks take you on a quest with various missions. Featuring the theme of blue, butterflies and mystery boxes, this is a family tour to experience together. The tour is included in your admission ticket. Children up to the age of 12 visit the museum free of charge.
Guided tour
In the company of a guide, immerse yourself in the world of the Cuban-Belgian artist Ricardo Brey and his exhibition Gap in the Clouds. An exhibition that seeks to be a positive statement and a sign of hope in these troubled times.
Practical information
Guided tour with a professional guide
Duration of the visit: 60 minutes
Min. 10, max. 15 participants per guide
Cost: ticket (10 euros per participant) and guide (80 euros per guide)
Guided tours are available in English.
Reservation via Visit Mechelen.
About the artist
Cuba-born artist, Ricardo Brey (°1955, Havana), has been in Belgium since 1990, when he was invited by Jan Hoet to take part in Documenta IX in Kassel. Brey has garnered a variety of prizes and exhibition awards including the Flemish Visual Arts Prize and an exhibition at the Guggenheim in New York. Ricardo Brey is an artist of international standing and was a member of the Venice Biennale in 2015.