Margaret in her Piety
The image and the animal other
Author: Monika Drlikova
Back when I lived in Utrecht, my journey to and from university would always lead me past a certain house on the corner of our street. It was a typical Dutch house in a uniform row, with a red-brick design and large windows set in white wooden frames.
Upon closer inspection, you might also have noticed that the house represented one typical custom of many Dutch households – the use of a windowsill as a semi-private exhibition space, curated by the inhabitants of these houses themselves. By displaying a wide array of items, from porcelain figures and plants to postcards, the inhabitants can express what they like, what they are like or even, perhaps, what they aspire to be like.
This specific house on our street was quite unequivocal on its subject of interest – the turtle. From Meissen-like porcelain turtles abundantly decorated with flowers on their shells to a plastic Donatello from the Teenage Mutant Ninja Turtles – any depiction you could imagine, I am pretty sure you would find it there. "I think that the person who lives here likes turtles," my friend who accompanied me on my way home once said. "I know! It's funny, isn't it?" I admitted. But during my later, frequent jaunts around our neighbourhood, I kept pondering about the turtle windowsill gallery. What is this person like? Intelligent, wise, old? And why did such characteristics spring to mind?
Perhaps because people across the globe have a long history of describing humans through animals. People say that someone is as strong as an ox, as smart as a fox, as agile as a monkey, and so on. Similarly, it happens the other way round too: children's books are full of stories in which animals are anthropomorphised – satirizing or judging human behaviour. When we want to emphasize a trait we are proud of or improve ourselves to make up for those we lack, we often look for our "animal other", a spirit animal. And think of all the animals used in heraldry, such as lions or eagles, that symbolize the qualities of noble families or even entire nations.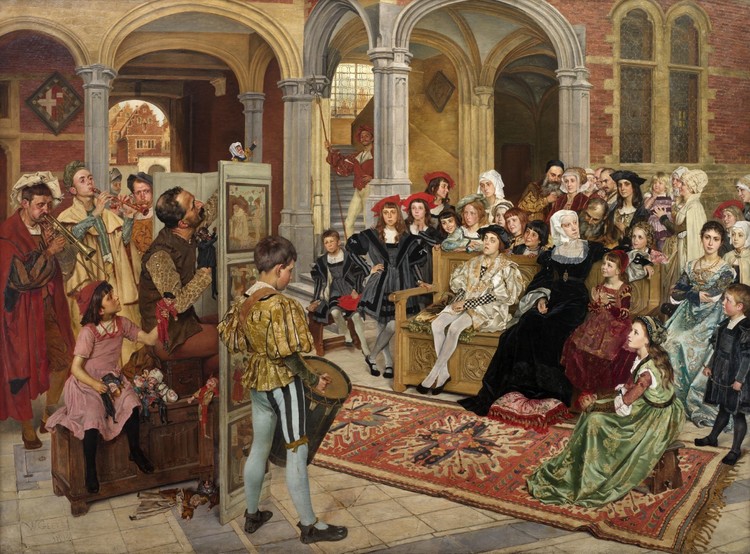 Margaret and her image
One of the rooms in our museum is called Margaret and Her Image and is dedicated to Margaret of Austria, duchess of Savoy and Governor of the Habsburg Netherlands, who established her court in Mechelen. However, what exactly does the image constitute? And how could have Margaret constructed it?
When I think of image, I think of it as how others perceive us and the way we demonstrate the values we stand for. Some people perceived Margaret as a well-educated, deft and energetic ruler. A fun-loving woman with a sharp sense of humour. Others also referred to her as a devout Catholic. After the death of her last husband, Margaret adamantly presented herself as a pious widow. And it seems that she managed to do so with immense success. Her court historian and poet Jean Lemaire de Belges gave her the title "Dame de deuil" (Lady of Mourning).
Margaret was also known as a great patron and collector of art. She loved music, especially polyphony, which was often performed at her court. In Museum Hof van Busleyden, you can admire a beautiful choirbook, created in the workshop of Petrus Alamire, with polyphonic pieces by Margaret's favourite composers.
She is also known to have hosted many artists and to have built a great collection of art. In 1521, on his journey through the Netherlands, Albrecht Dürer visited Margaret at her Mechelen residence. He described his visit in the following way: "Dame Margaret showed me all her beautiful things, among which I saw about forty small panels painted in oil colours…And I saw many splendid things, and a splendid library." It is often through a collection, through the objects we surround ourselves with, that we demonstrate our values, which we use as a means for the construction of our self-image.
Margaret's Collection of Artificalia and Naturalia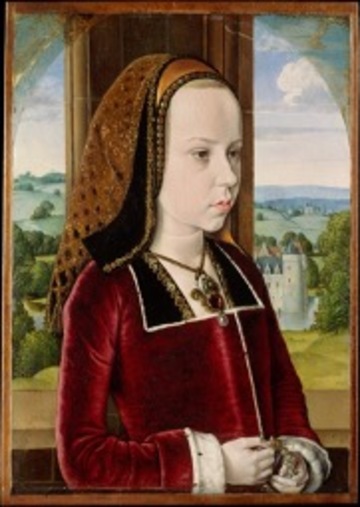 Although Margaret's collection was to be dispersed after her death, two inventories from 1516 and 1523-1524 have been passed down to us that reveal something about its contents. Besides a vast dynastic gallery of portraits in various media, it also included the Arnolfini Wedding by Jan van Eyck, a set of panels by Juan des Flandes and Michel Sittow or a Double portrait by the Master of Frankfurt.
However, in Margaret's era, collections did not contain only those objects we classify as fine art. They also consisted of natural things and natural matter, such as metals, stones, as well as animals and plants. Animals and plants in such collections were often documented and made available to humanists or artists for observation and study. And although science may have benefited greatly from that, this fascination was not always for the good of the animals themselves, which was the case, primarily, with rare and exotic species after the "discovery" of the Americas in 1492.
Many of them died on their way to Europe or, subsequently, in new and unsuitable conditions. Besides being objects for wonder and study, animals could have also served as a demonstration of power. By assembling various species at their courts, rulers and aristocrats created a sort of microcosm within a macrocosm, and in this microcosm, they were the sole authority and control. "Exotic" animals present in such microcosms might have served as a claim for territories, even beyond Europe.
Studiolo
Margaret was also interested in rare species and exotic objects. She owned several foreign items, such as "two boxes of cloth from the Indies" and "a pair of ladies' shoes from the Indies". We also know that she kept a book about the discovery of the New World in her study, described in the inventory as "Item, another book in Latin, printed, dealing with the Discovered Islands, covered with Bruges satin, and four lines of golden letters in Latin on it."
She possessed tangible "proof" of species there as well – for instance, a dead bird of paradise wrapped in taffeta and kept in a wooden box. Perhaps the most widely known series of objects in Margaret's collection is her cabinet of coral located in a studiolo on the ground floor, next to the courtyard garden.
Not only was corals rare, they were also imbued with symbolic meaning. Praised as precious stones in the Bible (Job 28:18; Lamentations 4:7 and Ezekiel 27:16), they were also believed to be able to heal mental problems and provide wisdom. Among the objects in this section, there was also a symbolic crown made specifically for the recently widowed regent, decorated with coral and other precious stones that symbolized ten different virtues.
The animal other

Speaking of jewels, the Metropolitan Museum in New York houses a portrait of Margaret at the age of ten, attributed to Jean Hey, in which she is depicted with a necklace with a fleur-de-lis form and a pelican at its top. The fleur-de-lis form of the necklace, a French royal symbol, undoubtedly celebrates Margaret's status as the intended future queen of France. However, the pelican might also be a revealing feature here. Legend says that the pelican pricked its breast to feed its starving young with its own blood.
In the Middle Ages, the pelican became a symbol of Christ's sacrifice and the Eucharist. As such, it also became a popular symbol for individuals striving to emphasize their piety. This motive became known as the pelican in her piety. Margaret was not the first from her family associated with a pelican in their personal imagery. In his joyous entry to Antwerp in 1478, Maximilian I was allegedly given a golden flower by a pelican, and the bird is also depicted on one of Maximilian's mechanical breastplates for the Joust of War, today at Musée de l'Armée in Paris.
This bird corresponded well with the strong devotion proper for every Habsburg, later known as Pietas Austriaca. Perhaps as an allusion to Margaret's roots, or as an emphasis on her intense devotion, which might have been instigated in her since early age, it is perhaps not surprising that she would wear such a display of religious virtuosity.
Although the pelican was a popular symbol used by various individuals for emphasizing their piety, in Margaret's case, this notion might have also been reinforced by an actual pelican. In his Historiae Animalium, the Swiss naturalist Conrad Gessner recorded a story of a tame pelican in Mechelen living there for decades. Local inhabitants of Mechelen repeatedly observed it flying above the court, hovering there "almost like a banner".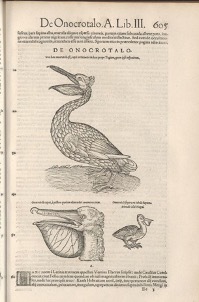 It must have been treated well, for Gessner also stated that trustworthy people of this region said that this pelican lived for eighty years. Such an age is truly exceptional, for captive-bred pelicans today are known to live for fifty years at best. It outlived its masters – it is said to "watch over the castle(s) of the Emperor Maximilian and signal the location, subsequently, the same thing occurred at the times of Philip. And afterwards, while its age allowed it, it flew in the queen's hall".
Gessner is not very clear about which castles or residences in Mechelen he means, and it is all the more unclear because we know that Maximilian did not live in Mechelen.
The pelican flying high above the castle might have functioned in a way similar to the turtles arranged on the windowsill in Utrecht. Positioned in the semi-private sphere of the household, not on a windowsill in this case, but in the air high above the castle, visible to passers-by, the pelican might have reinforced the image of the caring, pious inhabitants inside, including Margaret of Austria.
If you could describe yourself only through objects, what would you put on your windowsill? What would be your animal other?
Maybe if we could ask Margaret what kind of animal she would be in the animal world, she might have indeed identified with the pelican. But we will never know for sure. For us, Margaret's image is constructed from several testimonies, records of her likeness with various personal items depicted, or the items themselves that we are left with. On their basis, we can try to reconstruct Margaret's image, which, of course, can be perceived differently, according to individual perspectives or questions pertinent in different eras. Today, no pelicans may be flying above Margaret's residence, but in the very streets of Mechelen, at Lange Schipstraat, you can see a colourful mural depicting a pelican by the Antwerp artist Dzia. When you come across this mural on your walks through the city, you may recall this story and perhaps relive it in your mind during your visit to the museum.
About the author
Monika Drlikova studies Research Master's programme Art History of the Low Countries at Utrecht University. Currently, she is doing her internship at Museum Hof van Busleyden and working on her MA thesis on Wenceslaus Hollar and his scientific illustrations.
The author wishes to thank Vedran Sulovsky and Jan Meutermans for their help with the translation of the Latin passages, Frank Kinnaer for the consultation on animals in the history of Mechelen, and Duncan Hendy for his grammar corrections.
---
Literature
For the pelican motive, see:
Meryl Bailey, Salvatrix Mundi: Representing Queen Elizabeth I as a Christ Type, Studies in Iconography vol. 29 (2008), pp. 176-215.
For the pelican depicted on Margaret's necklace, see:
Charles Sterling, Jean Hey: Margaret of Austria, Maryan W. Ainsworth and Charles Sterling et al., Fifteenth- to Eighteenth-Century European Painting, New York 1998, cat. no. 3, pp. 11-18. And Pierre Terjanian (ed.), The Last Knight: The Art, Armor, and Ambition of Maximilian I., New York 2019, cat. no. 69, pp. 150-151.
For the pelican in Mechelen and naturalia in early modern collections, see:
Florike Egmond, Green Fashion: Painted Naturalia in Collections, Eye for Detail. Images of Plants and Animals in Art and Science, 1500-1630, London 2017, pp. 22-48.
Conrad Gessner, Historiae Animalium, Zürich 1551-1558, pp. 607-608.
For Margaret's collections, see:
R. Beer, Acten, Regesten und Inventare aus dem Archivo General in Simancas, Reg. 8347, Jahrbuch der Kunsthistorischen Sammlungen des Allerhochsten Kaiserhauses 12 (1891): pp. 110-23.
Dagmar Eichberger, A Noble Residence for a Female Regent: Margaret of Austria and the 'Court of Savoy' in Mechelen, In: Hills, Helen (ed.): Architecture and the Politics of Gender in Early Modern Europe, Aldershot 2003, pp. 25-46.
Deanna MacDonald, Collecting a New World: The Ethnographic Collections of Margaret of Austria, The Sixteenth Century Journal, vol. 33, no. 3 (2002), pp. 649-663.
H. Zimmerman, Inventoire des parties des meubles estans es cabinetz de Madame en sa Ville de Malines [Vienna: Habsburg-Lothringisches Familienarchiv, Familienurkunden, no. 1 174], Jahrbuch der Kunsthistorischen Sammlungen des Allerhochsten Kaiserhauses 3, no. 2 (1885), pp. 93-123.
For Maximilian's mechanical breastplate with pelican for Joust of War, see:
Pierre Terjanian (ed.), The Last Knight: The Art, Armor, and Ambition of Maximilian I., New York 2019, cat. no. 33, pp. 108-109.
Other literature:
Anna Grasskamp and Annette Loeseke, Asia in Your Window Frame: Museum Displays, Window Curators and Dutch-Asian Material Culture, World Art, 5:2 (2015), pp. 223-248, DOI: 10.1080/21500894.2015.1100135.