Hilde Overbergh: Navigating Turbulence
Museum Hof van Busleyden is currently closed for restoration. In spring 2024, the museum will reopen with a renewed permanent exhibition and the exposition Knights of the Golden Fleece. Stay up to date on the museum programme.
De Garage - 30.09.22 - 30.12.22
In Navigating Turbulence On a Horse with No Name painter and multimedia artist Hilde Overbergh (°1964, Leuven) takes the viewer on a playful voyage of discovery through a multi-faceted body of work. The result is an exuberant series of constellations that reflect the chaos of daily life. At the same time, the works summon astonishment and joy, in which Overbergh offers a compass for viewing things differently and hopefully. In the title of the exhibition, she refers to a well-known song by the American band America. It is a metaphor by singer and lyricist Dewey Bunnell: riding through the desert on a horse with no name also means escaping from daily chaos to a still, peaceful place.
Overbergh's art contains references to geometric shapes but is simultaneously messy, frayed and has an air of bric-a-brac. The installations of Hilde Overbergh consist of home-made objects and mixed media on plexiglass, textiles and canvas in ever-changing ensembles. Salvaged objects and materials (textiles, foam, plastic, but also wood and concrete) are disengaged from their original context and reworked using techniques such as folding, printing, gluing and countless other, more subtle processes and cut-outs.
In her painting, Overbergh hovers on the limit between figuration and abstraction, between subjective and objective reality. Through her work, she wishes to make sense of the world, to unravel her environment in shape and colour. She usually begins with material that she finds and that she uses for what it is. For its texture, its colour, its history, its expression and its tactility. In this way, she de-constructs physical reality and creates her own abstract interpretation. Ambiguity is central to the work of this artist: seeking the tension between empty and full, playing with light and shadow, with concepts such as openness and incompleteness...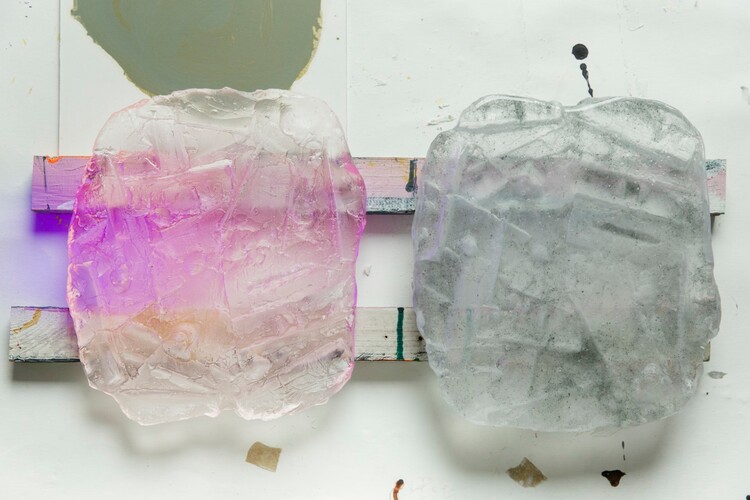 About Hilde Overbergh
Hilde Overbergh (°1964, Leuven) received a Masters in Painting from the Otis Art Institute Los Angeles and a Masters in Visual Arts from PXL Hasselt. She teaches painting at the SLAC in Leuven.
The exhibition Navigating Turbulence On a Horse with No Name is curated by Koen Leemans and Andrea Cinel.
More information
from 30 September in De Garage
Every first Thursday of the month there will be a Silent Visit