Ceremonial Opening of the Parliament of Mechelen
Ceremonial Opening of the Parliament of Mechelen
Jan Coessaet (attributed to)
1587?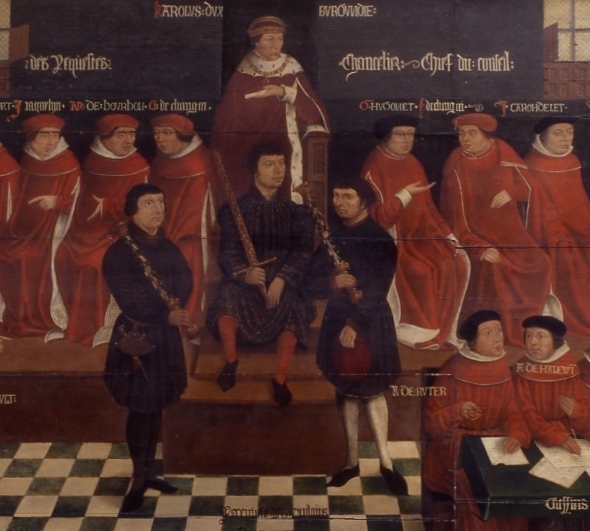 The forty-five gentlemen who are clad in red in this painting form the Parliament of Mechelen, which was the highest court of law in the Netherlands at the time. They are gathered in the upper gallery of Mechelen's Aldermen's House, the seat of the Great Council of Mechelen until 1616. The session is presided by Charles the Bold, the Duke of Burgundy, who founded the Parliament at the end of 1473. Being a sovereign ruler, he wears a crown and a cloak that is lined with ermine.
This painting is attributed to the Mechelen painter Jan Coessaet and is dated 1587. These are only assumptions, however. The work was probably made long after the scene that it represents. The style is archaic and the painter clearly did not intend to paint a realistic representation of the figures. He has added their names and their titles (in French).
We do know that this painting hung in the anteroom of the Great Council in Hof van Savoye from the end of the 17th century onwards. Various versions exist of this painting, including in the Royal Museums of Fine Arts of Belgium in Brussels and in the French National Library.
__
INFORMATION
Title: Ceremonial Opening of the Parliament of Mechelen
Object type: painting
Maker: Jan Coessaet (attributed to)
Date: 1587?
Medium: oil on panel
Dimensions: 149 x 476 cm
Inventory number: S0615
BIBLIOGRAPHY
Pierre Cockshaw en Georges Dogaer, 'La valeur historique des représentations du Grand Conseil établi sous Charles le Téméraire à Malines', Handelingen van de Koninklijke Kring voor Oudheidkunde, Letteren en Kunst van Mechelen 77(2) (1973): 27-46.
Paul De Win, 'Een hoogste rechtscollege voor de Nederlanden'. In: Samuel Mareel (red.), Roep om rechtvaardigheid. Recht en onrecht in de kunst uit de Nederlanden, 1450-1650. Veurne: 2018: 196-199.
Paul De Win, 'Het monumentale schilderij 'Plechtige openingszitting van het Parlement van Mechelen onder Karel de Stoute' (1474). Weinig zekerheden, veel vraagtekens en een hypothese', Handelingen van de Koninklijke Kring voor Oudheidkunde, Letteren en Kunst van Mechelen 122 (2018): 17-53.
L.Th. Maes, Het Parlement en de Grote Raad van Mechelen. Mechelen, 1949.