Calvary
Jean Mone
around 1550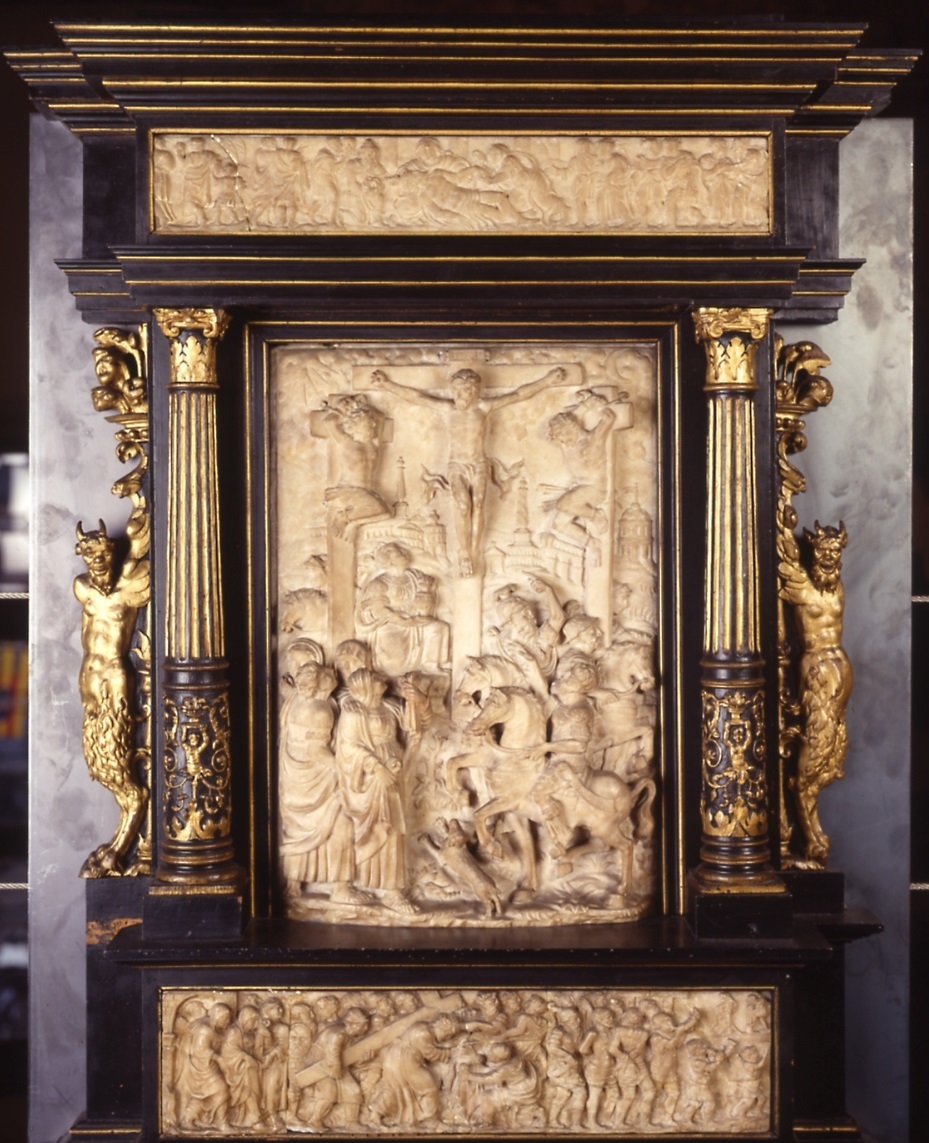 The Northern French sculptor Jean Mone, who was allowed to bear the title of 'artiste de l'empereur', moved to Mechelen in 1524. The city paid him a stipend until his retirement in 1547. Mone played a pivotal role in the introduction of the antique (Italian) visual style in the Low Countries. His influence on Mechelen's emergence as a production centre for carved alabaster is instrumental.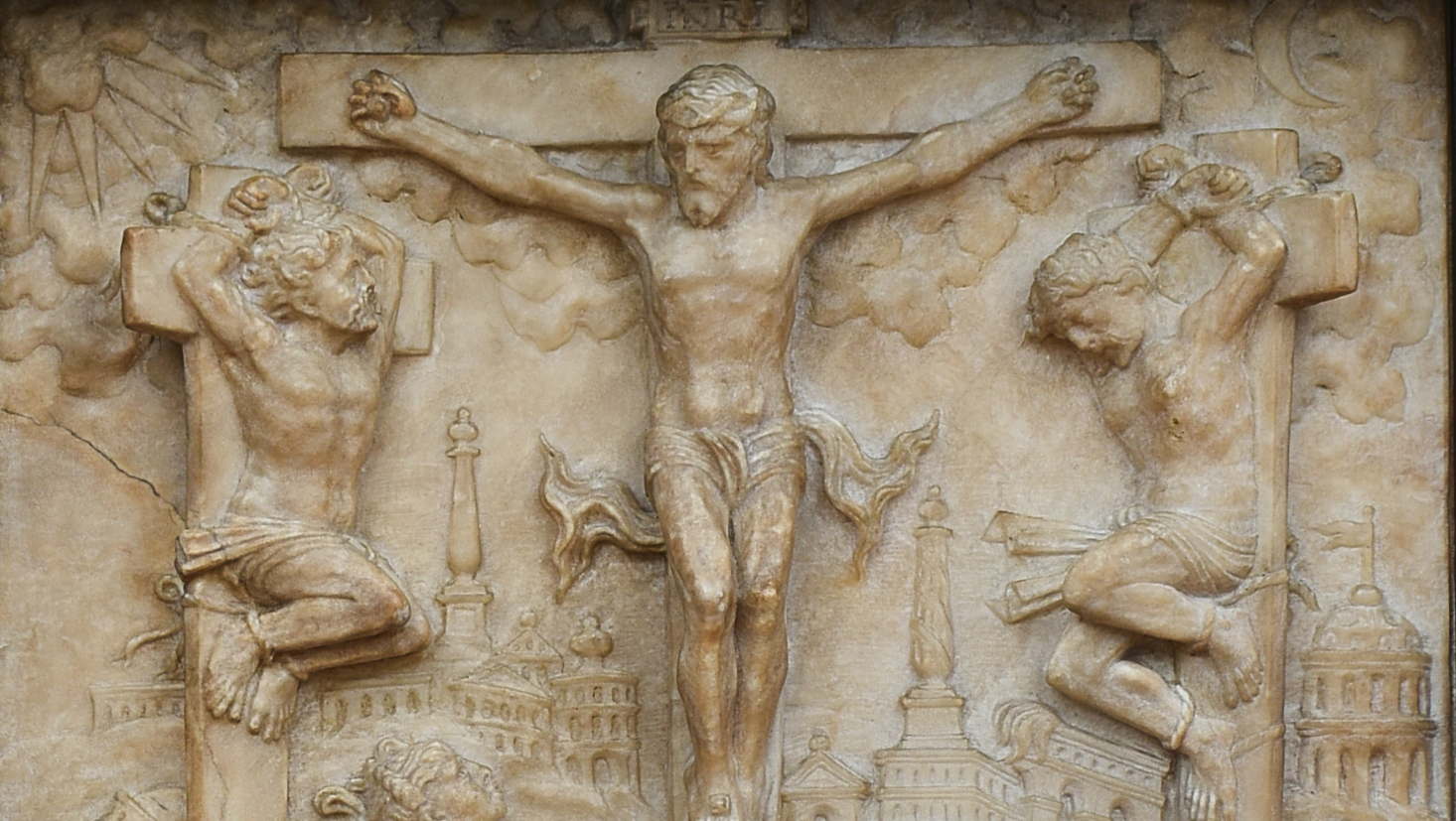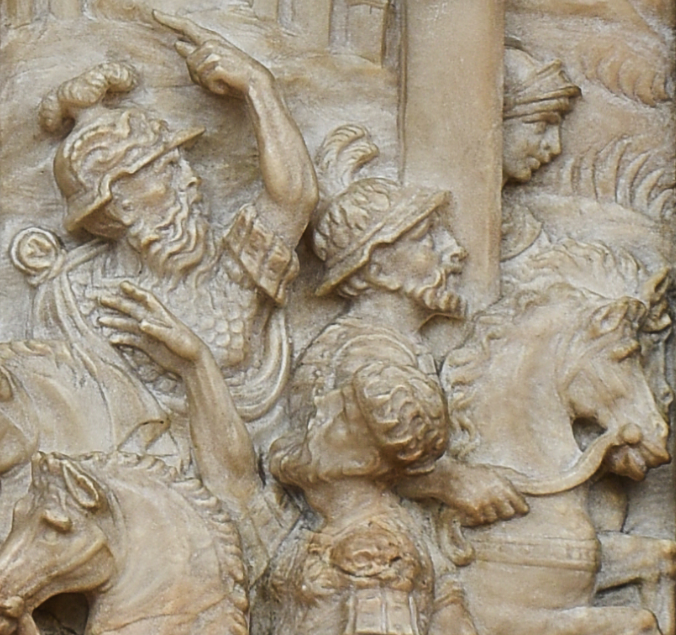 Three alabaster reliefs have been incorporated in a wooden architectural frame, with the characteristic antique columns and two gilded satyrs. Such compositions, better known as 'house altars', were extremely popular in 1550-1560 and were produced on a large scale. The small alabaster relief at the bottom depicts Christ on the road to Calvary. The centre alabaster features Christ on the Cross while the alabaster at the top depicts a pietà (the Virgin Mary cradling the dead body of Jesus). The style of these three alabasters is different, which suggests that they are not all by the same maker. The attribution of this house altar to Jean Mone's workshop is uncertain and requires further research.
__
INFORMATION
Title: Calvary
Object type: house altar with alabaster relief
Maker: Jean Mone (c. 1485 - c. 1554?)
Date: around 1550
Medium: wood, alabaster
Dimensions: 105.5 x 79.0 cm
Inventory number: B0105
Origin: Acquired in 1938 at auction by the City of Mechelen.
BIBLIOGRAPHY
Krista De Jonge, 'The Court Architect as Artist in the Southern Low Countries 1520-1560', Nederlands Kunsthistorisch Jaarboek 59 (2009): 111-135.
Krista De Jonge, 'The "Emperor's Artists" between Court and the City in the Sixteenth-Century Low Countries'. In: The artist between court and city (1300-1600). L'artiste entre la cour et la ville. Der Künstler zwischen Hof und Stadt. Petersberg, 2017: 130-146.
Ethan Matt Kavaler, 'The Jubé of Mons and the Renaissance in the Nederlands', Nederlands Kunsthistorisch Jaarboek 45 (1994): 349-381.
Ethan Matt Kavaler, 'Jean Mone, Barcelona, and the Origins of the 'Netherlandish' Antique Manner'. In: Netherlandish Art and Luxury Goods in Renaissance Spain. Londen/Turnhout, 2018: 63-76.
Aleksandra Lipinska, Moving Sculptures: Southern Netherlandish Alabasters from the 16th to 17th Centuries in Central and Northern Europe. Leiden, 2014.
Domien Roggen, 'Jehan Mone, artiste de l'empereur', Gentse bijdragen tot de kunstgeschiedenis 1953 (14): 207-245.
Domien Roggen, 'De beeldhouwer Jan Mone: zijn werk en zijn invloed', De Kunst der Nederlanden. Maandblad voor oude en nieuwe beeldende kunst 1 (1931): 372-384, 412-425.