Museum Hof van Busleyden is currently closed for restoration. In spring 2024, the museum will reopen with a renewed permanent exhibition and the exposition Knights of the Golden Fleece. Stay up to date on the museum programme.
Blazon of "De Violieren", a rederijkerskamer or chamber of rhetoric from Antwerp
Sebastiaan Vranckx, Frans (II) Francken
c. 1620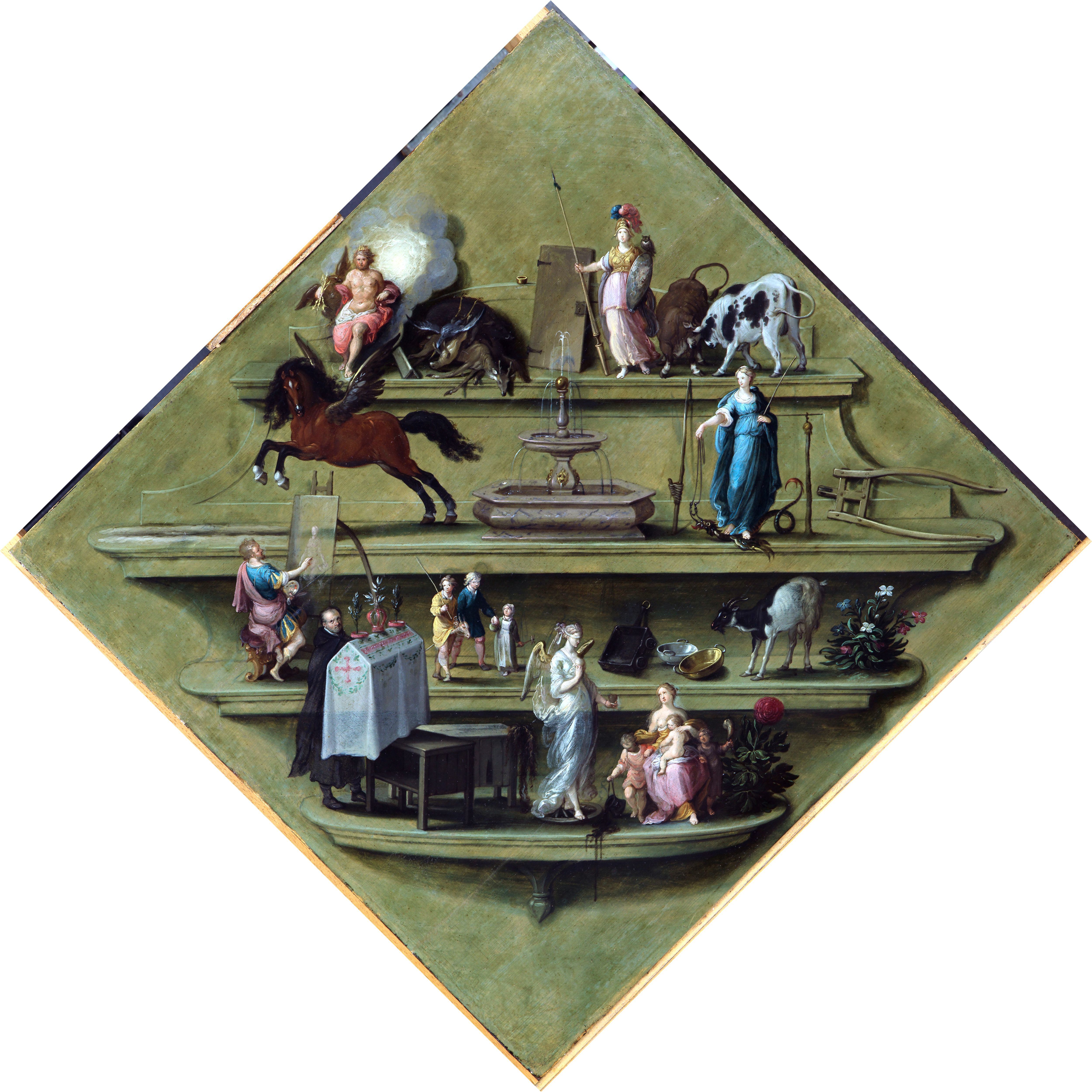 On 3 May 1620, the Mechelen chamber of rhetoric De Peoene organised an important festival. Chambers of rhetoric from around the Netherlands could win prizes in three categories: blazons, refrains and songs. This is the blazon (similar to a coat of arms), that earned the Antwerp chamber of rhetoric De Violieren the first prizes for originality and execution. It features a rebus puzzle. The names of the figures and objects form the following text:
Iupiter hemel-voorst, wilt ons duer Pallas stieren
Voor Pegasus fonteyn: stelt Reden int lammoen,
Apelles kinders bly, commen met violieren,
Bruer-lijck tooghen haer jonst, ter liefde die Peoen
Jupiter, celestial ruler, guide us through Pallas, to the fountain of Pegasus': bring reason into control. Apelles' joyful children, come here with The Gillyflower (the Antwerp chamber of rhetoric), show their good will in a brotherly tribute, for love of The Peony (the Mechelen chamber of rhetoric).
Both the blazon and the transcript of the puzzle are included in De schadt-kiste der philosophen ende Poëten, a report of the Mechelen festival that also includes all the submissions. It was published in 1621 by the Mechelen printer Hendrick Jaye. The following inscription is included under the blazon: 'Leeft in Rust' (Live in Peace), which is the motto of Jan Goossens, the man who devised the puzzle. The blazon was painted by Sebastiaen Vrancx and Frans Francken II. These two artists also worked on the blazon with which De Violieren had won a blazon festival two years earlier in Antwerp (KMSKA, inv. 366). Vrancx was a member of De Violieren and a playwright, in addition to being a painter and a poet.
__
INFORMATION
Title: Blazon of "De Violieren", a rederijkerskamer or chamber of rhetoric from Antwerp
Object type: painting
Maker: Sebastiaan Vranckx, Frans (II) Francken
Date: c. 1620
Medium: oil on wood
Dimensions: height: 60.5 cm, width: 60.5 cm
Inventory number: S0235.01
Origin: acquired from Mr Van den Corput in 1891
BIBLIOGRAPHY
Harry de Kok en Marcel Gielis, 'Schilderkunst, poëzie en muziek op het Mechelse rederijkersfeest van 1620', Provinciale Commissie voor Geschiedenis en Volkskunde. Jaarboek 16 (2004-2005): 69-78.
Hubert Meeus, 'De Schadtkiste der Philosophen ende Poëten'. In: P. Delsaerdt e.a., Polyanthea. Dertig en enige hoogtepunten uit de collecties van de UFSIA. Antwerpen, 1995.
Willem van Melckebeke, Geschiedkundige aenteekeningen rakende de Sint-Jans-Gilde, bygenaemd De Peoene. Mechelen, 1862.
Marc van Vaeck, '"De Schadt-Kiste der philosophen ende poeten" (Mechelen 1621): een blazoenfeest aan de vooravond van het einde van het Bestand', De zeventiende eeuw 8 (1992) 1: 75-83.
Catalogus van de retrospectieve tentoonstelling van het tooneelleven te Mechelen. Mechelen, 1927.
De schadt-kiste der philosophen ende poeten waer inne te vinden syn veel schoone leerlycke [!] blasoenen, refereynen ende liedekens gebracht ende gesonden op de Peoen-camere binnen Mechelen [...] geprononciert ende gesonghen op [...] den 3. mey vanden iaere 1620 .... Mechelen: Hendrick Jaye, 1621.