A Triptych depicting Charles V as King of Spain
A Triptych depicting Charles V as King of Spain
Jan van Battel
1517-1518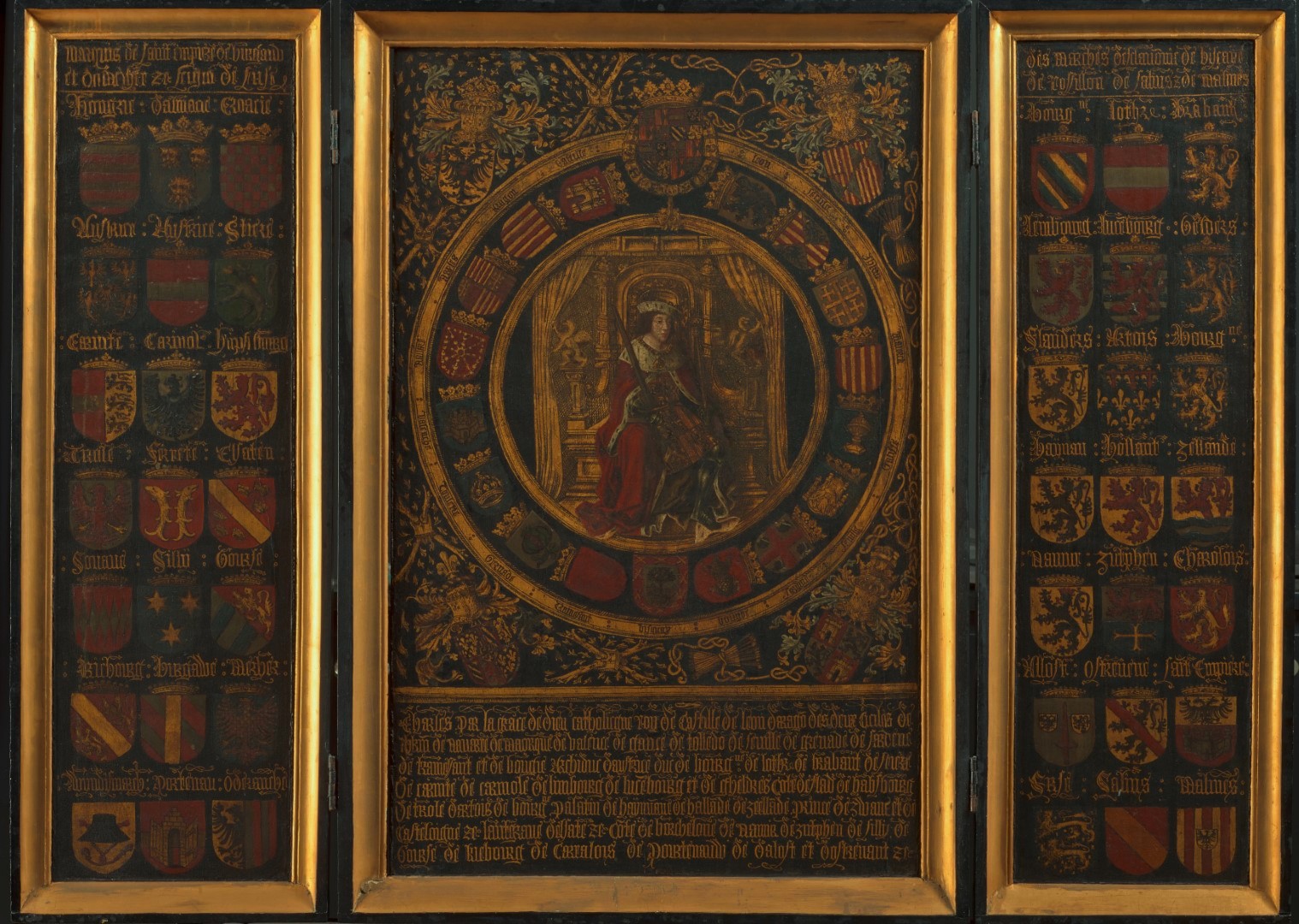 Jan van Battel painted this triptych for the steward's room in Mechelen's town hall. The stewards managed all the city's assets and buildings. With this painting, Mechelen possibly may have wanted to demonstrate its loyalty to Charles V, while highlighting the important role that the city had played in his education.
The centre panel depicts Charles V as King of Spain, wearing a red royal cloak and holding the royal regalia (the sceptre and the sword). He is flanked by the coats of arms of the territories that he would go on to rule: the Spanish territories in the circle, the Habsburg ones on the left wing and the Burgundian ones on the right wing. The four corners of the centre panel feature the coats of arms of the families to which he belongs: the houses of Habsburg (top left), Burgundy (bottom left), Aragon-Sicily (top right) and Castile-Leon (bottom right).
The Mechelen-based painter Jan van Battel regularly worked for the Habsburgs. In 1509, he designed a seal for Charles. Circa 1545, he painted a series of 35 panels, featuring the coats of arms of the Knights of the Order of the Golden Fleece for the Great Church in The Hague.
A later version of Jan van Battel's tryptych can be found in the collection of the Historisches Museum in Berlin. It depicts Charles after his election as Holy Roman Emperor in 1519.
Listen to the interview with Geoffrey Parker about his book Emperor: A New Life of Charles V (Yale University Press, 2019) or download it as an Apple podcast.
__
INFORMATION
Title: A Triptych depicting Charles V as King of Spain
Object type: painting
Maker: Jan van Battel (1477-1557)
Date: 1517-1518
Medium: oil on panel
Dimensions: 97.7 x 67.3 cm (centre panel); 97.7 x 33.4 cm (wings)
Inventory number: S0010
BIBLIOGRAPHY
Hyacinthe Coninckx, 'Notes d'art. A - A propos du Chapitre de la Toison d'Or; tenu à Malines en 1491. - Hugues de Boulogne; Pierre Coustain; Jean Hannequart; Vranque; Baudouin van der Wyct, alias van Battele; Rombaut van Parcke; Henri de Kale; Jacques van Lathem; Jacques et Jean van Battele; Michel Coxcie, peintres. B - Au fil des comptes de la corporation des poissonniers', Cercle Archéologique, Littéraire et Artistique de Malines 17 (1907): 52-101.
Marjolijn Kruip, 'Jan van Battel (1477-1557), heraldische schilder in Mechelen. Kunstenaar, werken en nieuwe vondsten', Handelingen van de Koninklijke Kring voor Oudheidkunde, Letteren en Kunst van Mechelen 119 (2015): 105-13.